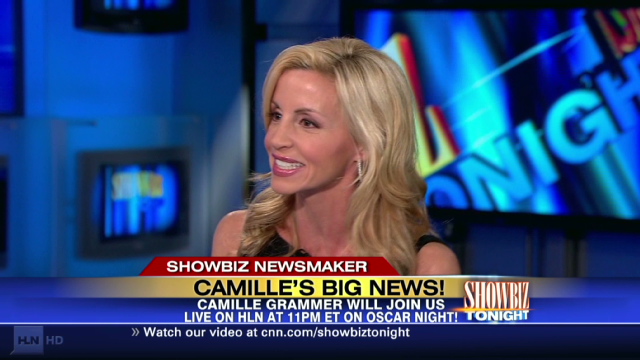 HLN
February 16th, 2011
Camille Grammer to Join CNN AND HLN Special Oscar Coverage
Grammer Joins Showbiz Tonight Hosts AJ Hammer and Brooke Anderson as Celebrity and Fashion Commentator
Showbiz Tonight: Road to Gold Airs Sun, Feb 27, 7 p.m. ET on CNN and 11 p.m. ET on HLN
Television personality Camille Donatacci Grammer will join Showbiz Tonight as a fashion and celebrity commentator live from the Oscars on Sun, Feb 27, for the Red Carpet special, Showbiz Tonight: Road to Gold. Grammer, who stars on the TV show The Real Housewives of Beverly Hills, will provide her insider perspective on celebrity arrivals and fashion insights.
Grammer joins Showbiz Tonight hosts AJ Hammer and Brooke Anderson for the special, live at the Kodak Theater, 7-8 p.m. ET on CNN. Showbiz Tonight: Road to Gold returns at 11 p.m. ET on HLN and will be TV's only entertainment news show live with the latest breaking news from the Academy Awards.
"We can't wait to get Camille's unabashed take on Hollywood's biggest night," said Dave Levine, Senior Executive Producer, CNN Entertainment and Showbiz Tonight. "She will be perfect for 'Showbiz Tonight,' TV's most provocative entertainment news show."
Also joining AJ, Brooke and Camille live at the Oscars will be acclaimed and outspoken actress Sheryl Lee Ralph and syndicated radio host Carlos Diaz with their colorful insights and candid views.
Online, CNN's Oscar coverage will provide exceptional access to the most compelling moments from the 83rd Academy Awards at www.cnn.com/showbiz.  CNN.com's Entertainment section will feature all of the evening's nominees and winners, photo galleries of the fashion 'dos and don'ts', an Oscar-themed quote board, as well as all of the excitement from the red carpet streamed live from 6 to 8 p.m. ET.
The "Show Trending Stories" tab on the Entertainment section will also present the most popular, user-driven Oscar stories according to related user activity in CNN.com's comments, as well as on Facebook.
Users can check The Marquee Blog throughout the night or follow @CNNShowbiz for updates from the red carpet and the winners as they're announced.
HLN is a CNN Worldwide network offered in more than 90 million households in the U.S. CNN Worldwide, a division of Turner Broadcasting System, Inc., a Time Warner Company, is the most trusted source for news and information. Its reach extends to nine cable and satellite television networks; one private place-based network; two radio networks; wireless devices around the world; CNN Digital Network, the No. 1 network of news Web sites in the U.S.; CNN Newsource, the world's most extensively syndicated news service; and strategic international partnerships within both television and the digital media.