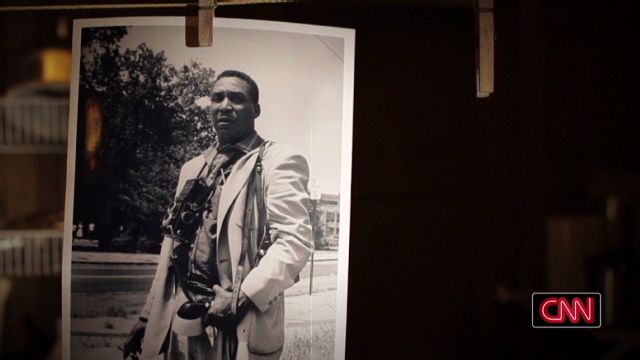 CNN Special Programming & Documentaries
February 8th, 2011
Soledad O'Brien reports on Civil Rights photojournalist revealed as FBI informant
'Pictures Don't Lie' zooms in on controversial legacy of Ernest Withers – Sun., Feb. 20

,

8:00pm ET & PT
Photographer Ernest Withers documented the struggles and the victories of the U.S. Civil Rights Movement of the 1950s and 1960s through shocking and inspiring images that evoke the injustice and the rage of that history even today.  Along the way, he himself became an icon.
When Withers photographed the grotesquely mutilated body of Emmett Till, slain for allegedly whistling at a white woman, the photos rocketed across the country and around the world in magazines and newsprint – notably in JET and LIFE magazines, and the Chicago Defender – forcing the nation to focus on that amplified vision of injustice.  Withers himself was so moved that he vowed to attend each day of the trial and photograph those accused of the lynching.
After Withers died in 2007, documents secured through a Freedom of Information Act request, submitted by journalists the Memphis Commercial Appeal, revealed that in addition to taking photographs, Withers was also a paid informant for the FBI.  Withers even had a code name, "ME 338-R," a designation for "Memphis Racial Informant." A paper trail has emerged suggesting Withers gave the FBI sensitive information on leaders of the movement, their meetings, and their activities – part of the FBI's official, "Ghetto Informant Program."
CNN anchor and special correspondent Soledad O'Brien tells the story of the secret life of Ernest Withers in Pictures Don't Lie, debuting on CNN/U.S on Sunday, Feb. 20 at 8:00p.m. ET and PT; it replays Saturday, Feb. 26, at 8:00p.m. ET and PT.  
King biographer David Garrow tells O'Brien, "There is no doubt whatsoever, the available documentary evidence, which includes both Mr. Withers' name and his informant coding number – that matches up with dozens of FBI documents – nails it, 100 percent – case closed."
Withers himself told no one of his contacts with the FBI, not even his family, and his now complicated legacy yields an array of reactions.  Withers' family members describe feeling "devastated" and considered cancelling plans to turn his former Memphis photography studio into a museum.  Entertainer and activist Dick Gregory tells O'Brien, "This man…his danger was – he was all over the place," referring to the physical danger that Withers may have presented to leaders in the Movement, specifically to Dr. King.
Former U.N. Ambassador and former Atlanta Mayor Dr. Andrew Young holds a different view, suggesting that even if Withers was an informant, his photographs were critical to the Movement's success: "…it would not have been the Movement without the pictures…basically, he was the guy," Young says.
O'Brien dissects the never-before-seen-on-television documents from the FBI with those who were there at the time of critical events.  A digital feature describing the story of how the documents came to light will be reported on www.cnn.com/inamerica, along with a photo gallery of Withers' iconic images and video excerpts of the documentary.   An audio podcast of the documentary will be posted following the premiere airing of the documentary.  CNN Student News is producing an Educator and Parent Guide for Pictures Don't Lie, which will include discussion questions, and a learning activity.  The guide will be available on www.CNNStudentNews.com.
The senior producer of Pictures Don't Lie is Cameo George.  Tina Matherson and David Matthews are associate producers; Erika Colin is production assistant.  Geraldine Moriba is the executive producer for CNN's In America unit.
CNN Worldwide, a division of Turner Broadcasting System, Inc., a Time Warner Company, is the most trusted source for news and information. Its reach extends to nine cable and satellite television networks; one private place-based network; two radio networks; wireless devices around the world; CNN Digital Network, the No. 1 network of news Web sites in the United States; CNN Newsource, the world's most extensively-syndicated news service; and strategic international partnerships within both television and the digital media.
-30-
CONTACTS:
Jennifer Dargan                    Atlanta              jennifer.dargan@turner.com
Van Scott                           New York          van.scott@turner.com