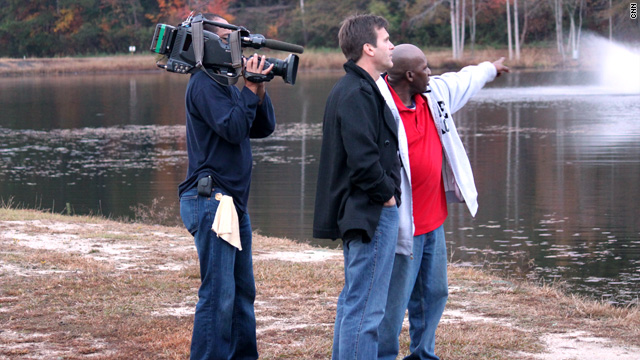 CNN Press Releases
January 27th, 2011
Correspondent Drew Griffin Investigates for CNN in 'Rogue Justice'
Drew Griffin reports for 'Rogue Justice' debuting Sunday, Jan. 30 at 8:00pm ET & PT on CNN/U.S.
Greg Taylor spent 17 years behind bars for a murder he did not commit.  Floyd Brown, also innocent, was forcibly detained in a mental institution for 14 years.  The North Carolina State Bureau of Investigation (SBI) was at the center of both cases.
CNN correspondent Drew Griffin investigates for Rogue Justice, airing on CNN/U.S on Sunday, Jan. 30 at 8:00p.m. ET and PT, and replaying on Saturday, Feb. 5, also at 8:00p.m. ET and PT. 
In Taylor's case, the jury took just hours to sentence him to life, but the SBI had withheld evidence from the jury.  In Brown's case, an SBI agent claimed that he had written down verbatim a six-page confession that Brown had given him describing the murder in intricate detail.  But Brown has the I.Q. of a seven-year-old and is incapable of even spelling his own name.  Though there was no physical evidence linking Brown to the crime, the alleged confession resulted in his confinement to a mental institution.
"The SBI lab became the prosecution's lab, not the justice system's lab," says Christine Mumma, Taylor's attorney.
Taylor's and Brown's cases raised serious questions about the SBI and its investigations.  An audit of the SBI's crime lab ordered by the State Attorney General's office in North Carolina found more than 200 cases between 1986 and 2003 in which blood test results were withheld from trial.  In many cases, the evidence withheld would have helped the defense.  In three of those cases, defendants were executed; four more remain on death row.
Taylor's and Brown's terrifying experiences and personal struggles to achieve justice can be seen in separate features on www.cnn.com, as well as a video excerpt from the documentary.  Digital material from Rogue Justice will be available beginning today, Thursday, Jan. 27.
Rogue Justice was produced by Brian Rokus and Taryn Fixel.  Kathy Slobogin is managing editor and Scott Matthews is the executive producer for CNN's Special Investigations and Documentaries unit.
CNN Worldwide, a division of Turner Broadcasting System, Inc., a Time Warner Company, is the most trusted source for news and information. Its reach extends to nine cable and satellite television networks; one private place-based network; two radio networks; wireless devices around the world; CNN Digital Network, the No. 1 network of news Web sites in the United States; CNN Newsource, the world's most extensively-syndicated news service; and strategic international partnerships within both television and the digital media.
-30-
CONTACT: Jennifer Dargan             404.885.4638                      jennifer.dargan@turner.com