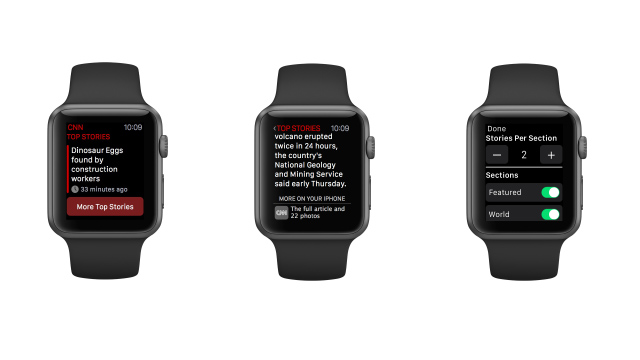 CNN Digital
April 24th, 2015
CNN App for Apple Watch Now Available
Today CNN launched an app for the Apple Watch.  Available on the app store globally, the CNN app provides breaking news notifications and headlines for 12 categories right on your wrist.
One of CNN's most personal products to date, the app allows wearers to customize their news experience through the following features:
 Main screen –  by force touching the screen, a user can call up a menu to choose which sections and how many stories in each section are displayed on the Watch.  Categories range from top stories and health to entertainment and politics.
Story pages – include a thumbnail image, brief summary of the story and a prompt to view more content on their iPhone.  A user can save the story by force touching the screen or they can read more by using Apple's hand-off feature to their iPhone.
Notifications – breaking news alerts that come directly to the Watch.  When a new alert comes in, the wearer's wrist will get a tap (if settings are turned on).  The user can then open the alert within their Watch or be directed to more content – even live CNN TV – on their iPhone.
Glances – Watch users can access CNN's top story in the glance view.
Users must have iOS 8.2 and iPhone 5 and above to access the CNN app for Apple Watch.
###
Additional Images:
View of CNN app breaking news alert
View of CNN app main screen
View of CNN app story page