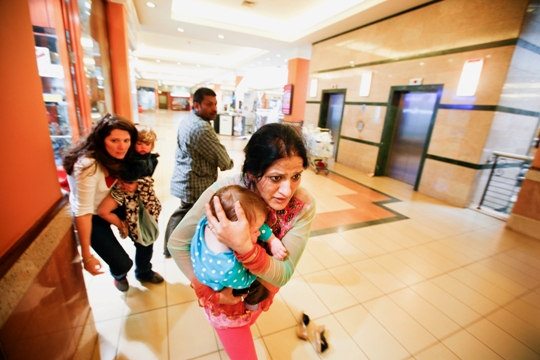 CNN Special Programming & Documentaries
September 16th, 2014
TERROR AT THE MALL airs on CNN Friday, Sept. 26
HBO Documentary Film's chilling inside look at the 49-hour siege of Kenya's Westgate Mall comes to CNN
One year after the world was shocked by a brazen attack upon the Westgate Mall in Nairobi, Kenya, CNN/U.S. broadcasts the acclaimed HBO Documentary Film, TERROR AT THE MALL, on Friday, Sept. 26 at 9:00pm and 11:00pm. All times Eastern.
Sometime shortly after noon on Sept. 21, 2013, Al-Shabaab, an Al Qaeda-linked terrorist group from Somalia, attacked Westgate Mall in neighboring Kenya. The chilling story of the 49 harrowing hours that followed is told from the vantage point of witnesses and rescuers to the attack, film from more than 100 security cameras revealing hours of previously unaired surveillance video, and photos from survivors taken during the attack.
"That Saturday was really a normal Saturday, like any other Saturday," recalls survivor Amber Prior, who was at the mall with her six-year-old daughter and four-year-old son.
Witnesses recall that gunfire quickly followed a loud explosion. Chaos reigned in the early moments of the siege, with frightened shoppers running for their lives, unsure of the origin of the attack. "People are confused, they don't know where to go, stepping on each other," recalls Valentine Kadzo.
Harveen Sihra, a 15-year-old girl who was shot multiple times during the siege, recalls the gunman's ominous words: "The only thing he said was that we are here to kill. You killed our people in Somalia. We normally don't kill women and children but you kill ours in Somalia and so we are here to take revenge."
Outside of the mall, 45 minutes after the attack began, there still was no obvious response by law enforcement authorities as Kenyan security forces remained outside trying to decide how to proceed.
Instead, a handful of plainclothes police and civilians took matters in their own hands, and a shootout began between the terrorists and the small group of civilian rescuers and plainclothes policemen. "Everybody's close to each other. We don't know each other, we all come from different communities. But at that time, we were one," recalls Kadzo.
The terrorists released a few hostages who professed the Islamic faith, but many Muslims, like popular Kenyan radio host Ruhila Adatia-Sood, who was seven months pregnant, were killed. "What angered me the most was the fact that [the terrorists] were Muslims, and they were purporting to do whatever they were doing in the name of Islam," says civilian Abdul Haji, who joined the rescue effort with only a registered handgun.
Three and a half hours after the terrorists first struck, a police SWAT team finally entered the mall, but by then the massacre was over and many of the wounded had succumbed to their injuries. And, in the initial confusion, Kenyan army and S.W.A.T. team responders mistakenly fired at each other, leaving one police officer dead. When both groups left the mall just 90 minutes after their arrival, the terrorists relaxed at the back of Nakumatt's furniture storeroom, praying and waiting for the arrival of Kenya's military forces.
The standoff between the terrorists and the army lasted 40 more hours, during which five soldiers were killed. Two days after the terrorists struck, the army launched a high explosive shell into a mall store with the last remaining four terrorists. All four were incinerated; parts of Westgate Mall burned to the ground.
"I am satisfied that our disciplined forces have responded in a professional and effective manner," said Kenyan president Uhuru Kenyatta, when the attack was eventually ended. "We have ashamed and defeated our attackers."
Al-Shabaab had a victorious message of its own though, proclaiming in a video: "We want to send a message to unbelievers. We entered Westgate and wreaked havoc. God willing, there will be more Westgates. We have hundreds more volunteers."
Sixty-seven civilians were killed during the attack; hundreds were wounded. To date, Westgate Mall remains closed with no plans to reopen.
The chilling documentary is directed by Dan Reed (HBO's Emmy®-nominated "Terror in Mumbai") and originally premiered on HBO on Monday, Sept. 15.
Mark Towns edited TERROR AT THE MALL; Mrinal Desai is director of photography. George Carey is executive producer, Rachel Naughton is head of production, and Sasha Achilli is assistant producer. Sam Bagnall is executive producer for BBC. For HBO, Nancy Abraham is senior producer and Sheila Nevins is executive producer.
In addition to the telecast, TERROR AT THE MALL will be available in simulcast on Sept. 26, via CNN GO for mobile, as well as through "Watch CNN" via www.cnn.com.
About CNN
CNN Worldwide is a portfolio of two dozen news and information services across cable, satellite, radio, wireless devices and the Internet in more than 200 countries and territories worldwide. Domestically, CNN reaches more individuals on television, the web and mobile devices than any other cable TV news organization in the United States; internationally, CNN is the most widely distributed news channel reaching more than 271 million households abroad; and CNN Digital is a top network for online news, mobile news and social media. Additionally, CNN Newsource is the world's most extensively utilized news service partnering with hundreds of local and international news organizations around the world. CNN is division of Turner Broadcasting System, Inc., a Time Warner Company.
-30-