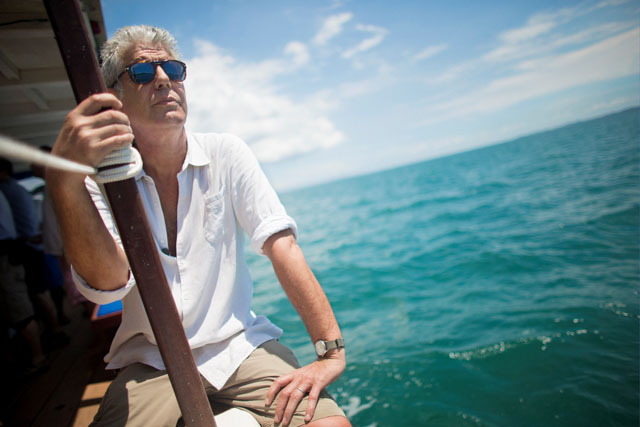 Parts Unknown
April 2nd, 2014
CNN Original Series Anthony Bourdain Parts Unknown Wins Peabody Award
The CNN Original Series Anthony Bourdain Parts Unknown is a winner in the University of Georgia's 73rd annual George Foster Peabody Awards competition, which recognizes excellence and meritorious work by radio and television stations, networks, webcasters, producing organizations and individuals.
In honoring the series, the judging panel noted, "Whether Bourdain's tireless search for new taste experiences takes him to Myanmar or Detroit, he never fails to find great stories to go with the food."
Produced by Zero Point Zero Production, Anthony Bourdain Parts Unknown begins its third season on CNN Sunday, April 13 at 9pm ET.   Hosted by popular television personality, renowned chef and best-selling author Anthony Bourdain, the new season of "Parts Unknown" features excursions to Punjab, India, Las Vegas, Lyon, France, Mexico City, the Mississippi Delta, Russia, Thailand, and Bahia, Brazil.
The Peabody Awards, the oldest in electronic media, are considered among the most prestigious and selective prizes.  The Peabody medallions will be formally presented on May 19 in New York City.
CNN Worldwide is a portfolio of two dozen news and information services across cable, satellite, radio, wireless devices and the Internet in more than 200 countries and territories worldwide. Domestically, CNN reaches more individuals on television, the web and mobile devices than any other cable TV news organization in the United States; internationally, CNN is the most widely distributed news channel reaching more than 271 million households abroad; and CNN Digital is a top network for online news, mobile news and social media. Additionally, CNN Newsource is the world's most extensively utilized news service partnering with hundreds of local and international news organizations around the world. CNN is division of Turner Broadcasting System, Inc., a Time Warner Company.
###