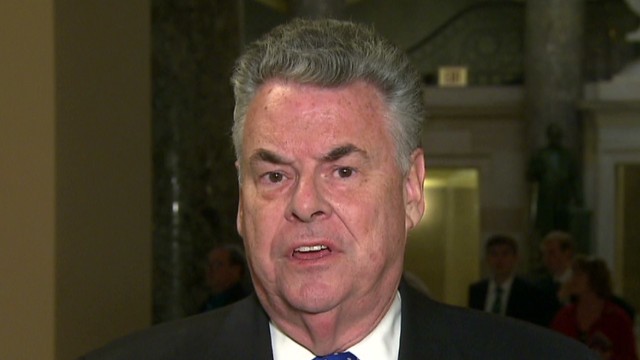 Wolf Blitzer
March 11th, 2014
Rep. Peter King to CNN's Wolf Blitzer on missing flight: "…so far they seem to have dropped the ball at every level."
On CNN's The Situation Room with Wolf Blitzer, Rep. Peter King (R-NY)  spoke about the missing flight. A highlight from the interview is below and a full transcript is posted on http://archives.cnn.com/TRANSCRIPTS.

PLEASE CREDIT: CNN's The Situation Room with Wolf Blitzer
Highlight from Interview:
THIS IS A RUSH TRANSCRIPT. THIS COPY MAY NOT BE IN ITS FINAL FORM AND MAY BE UPDATED
BLITZER:  Yes.  We did hear from the commander of the U.S. Navy.  At least one of the ships, the USS Kidd in the Pacific, involved in the search.  Yesterday they were told by the Malaysian military that the plane did do a U-turn, and then they began taking a look on the other side of Malaysia where they had not been looking originally.
What I hear you saying is you don't have a whole lot of confidence in the Malaysian authorities, do you?
KING:  No, so far they seem to have dropped the ball at every level.  And I hate to be, you know, the Monday morning quarterback, but it appears as if they've done nothing right so far.  Even if the navy was told about it yesterday, that's 48 hours after the fact.  To me every minute counts here.
And that was such a key point, that the plane actually reversed course and was flying back over Malaysia toward Indonesia.  I mean, why wasn't that made known?  Why weren't jets scrambling?  Why wasn't an alert put out on that immediately once they realized that was happening?
###