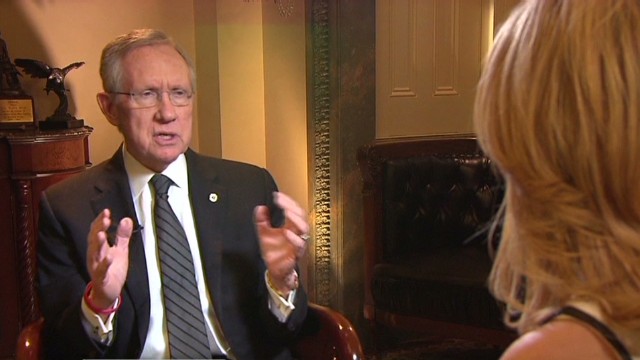 Dana Bash
January 28th, 2014
Sen. Reid to CNN's Dana Bash, "I don't contemplate losing the majority …"
Today CNN chief congressional correspondent Dana Bash sat down with Senate Majority Leader Harry Reid for an exclusive state of the union interview.
Please Credit – CNN Chief Congressional Correspondent Dana Bash
THIS IS A RUSH TRANSCRIPT. THIS COPY MAY NOT BE IN ITS FINAL FORM AND MAY BE UPDATED.
BASH:  Name another issue where you are encouraging the president to use an executive order.
REID:  I think there's some things within the environment, the Republicans are obsessed with there is no climate change.  The EPA is trying to ruin the country.  The — what we shouldn't do renewable energy.  The president, I think, has some leeway to do some things in this trade way and I'm confident that he will to help the environment which has been denigrated as we speak.
—-
BASH:  If you do lose the majority, will you remain on as minority leader?
REID:  I don't even — I don't contemplate losing the majority because I think it would be very, very difficult to do.  And I think we're in good shape where we are.
BASH:  You won't even go there on an if?
REID:  No.  I won't do hypotheticals.
—-
BASH:  Several of these Democrats, again, who are running for their political lives in red states want to see some changes and are proposing changes to the Affordable Care Act.

Will you, because you have the ability to help them is put some of these ideas up for a vote in the Senate, will you allow some votes to change it?
REID:  Of course.  Of course.
###
MORE INFO: Sen. Reid to CNN's Dana Bash: "@BarackObama is personally a very popular guy. And people love this man.  They love his family." http://cnn.it/MaFeLg