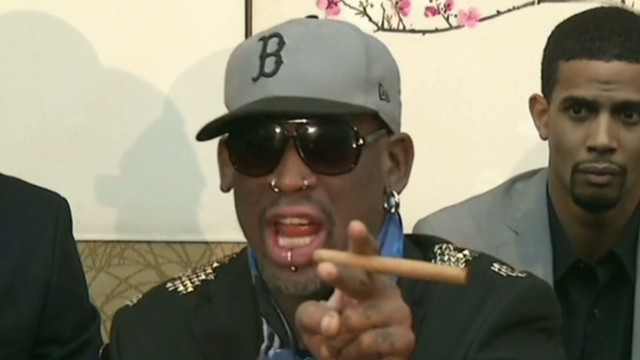 New Day
January 7th, 2014
CNN "New Day" Exclusive: Dennis Rodman defends his controversial visit to North Korea
In an exclusive interview with Chris Cuomo of CNN's "New Day," basketball star Dennis Rodman defended his controversial visit to North Korea with a team of former NBA players, saying it was a "great idea for the world."  The trip takes place just weeks after North Korea shocked the world by announcing the purge and execution of Kim Jong-Un's once-powerful uncle. There are also concerns for the welfare of U.S. citizen Kenneth Bae, who has been detained for more than a year for unknown crimes.
Rodman and other former NBA players are due to take part in a controversial basketball game on the birthday of Kim Jong-Un.  Referring to Kim Jong-Un, Rodman said, "I love my friend. This is my friend." He also pointed out that Kim is only 31 years old.
Asked if he would take the opportunity to ask North Korean leaders about Bae, Rodman suggested Bae had done something wrong but did not say what.  Growing increasingly angry with his interviewer, Rodman said "I don't give a rat's ass what the hell you think … You are the guy behind the mic right now … we are the guys who have to go back to America and take the abuse."
Fellow player Charles D. Smith sought to defend Rodman, saying the visit was about basketball, not politics.  The players were invited by North Korea, Smith said, and are here as a kind of "cultural exchange" and to "put smiles on people's faces," it is not to influence the country's leader.  "We've been doing these games for three-and-a-half years," he said. "Outside of what you know of Dennis, you don't know Dennis. He's got a great heart; his passion is about children and families, that's why we are here.
Interview part 2: