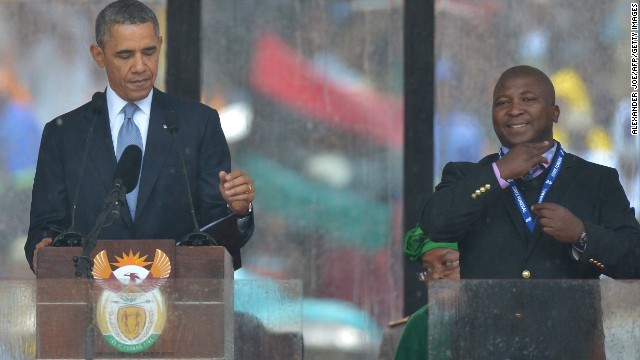 David McKenzie
December 12th, 2013
CNN's David McKenzie talks to 'fake' interpreter from Mandela memorial
After the deaf community in South Africa claimed Thamsanqa Jantjie, the sign language interpreter from Nelson Mandela's memorial service, used meaningless signs, CNN's David McKenzie (@McKenzieCNN) sat down with Jantjie to discuss these criticisms.
Jantjie stands by his work, telling McKenzie "I have never in my life had anything that said I have interpreted wrong."
"For the deaf association, if they think that I have done a wrong interpretation, I ask forgiveness," he added.
Jantjie also revealed he suffers from schizophrenia, which is what drew him to interpreting given his disability.
"I am suffering from schizophrenia, which is controllable. I am under treatment," he said.