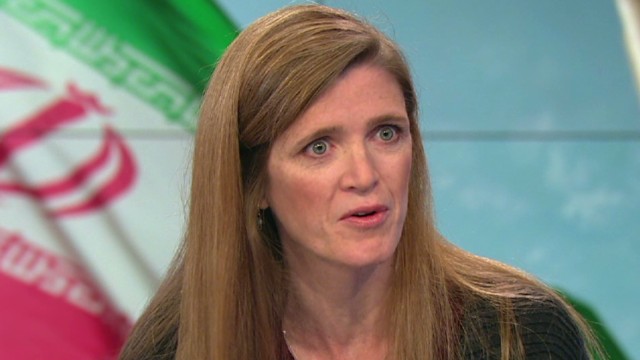 New Day
November 21st, 2013
UN Amb. Power on Iran negotiations: Large relief numbers exaggerated
On "New Day" this morning, United States Ambassador to the United Nations Samantha Power opened up about negotiations with Iran, defending the United States' engagement, while denouncing the Iranian Supreme Leader Ayatollah Ali Khamenei's comments about Israel as "abhorrent." Ambassador Power said that we have to give something to get something, in regards to giving "modest relief." Later in the interview, she advocated for Senate ratification of U.N. Disabilities Treaty, which she said "raises the standards" for people living outside the United States.
Power said, "[Iran wants] to know that we can also deliver on the back end of a deal. So we feel like we're getting a very good deal here if we can secure this, which is to offer very modest, temporary and very reversible relief in exchange for being able to see whether they're prepared to take that first step." When CNN Anchor Kate Bolduan asked Power how much relief will be offered, she confirmed that "larger numbers are wildly exaggerated."
"New Day" airs weekday mornings from 6-9 a.m. ET on CNN.
@NewDay
http://www.facebook.com/NewDayCNN
http://www.cnn.com/NewDay