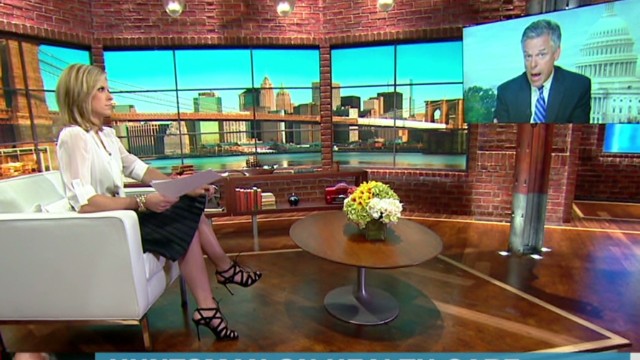 New Day
October 23rd, 2013
Huntsman: Must press forward with expanded healthcare; addresses future presidential run
Former Utah Governor Jon Huntsman appeared on "New Day" to discuss the rollout of Obamacare and political dysfunction. Huntsman told CNN Anchor Kate Bolduan that even though the rollout had a "bungled start," the website trouble "is a much bigger issue than Kathleen Sebelius." Although he thinks states should have had more time to experiment with its own exchanges before the program launched at a national level, he stressed that the United States must get "more people insured" and bring down costs.
"It's a bungled start, there's no doubt about that, but we must press forward," Huntsman said. "When I was born over fifty years ago, healthcare as a percentage of our GDP was about 2%; today it's about 18%. You're looking at a $3 trillion industry, which is roughly the size of the GDP of France. That's growing at double digit rates. We have no choice other than to attack the costs. And the only way that you attack the costs, I learned as Governor at the state level, is by getting more people insured. And the only way you do that successfully is by providing a multiplicity of insurance options that take care of a lot of different contingencies in life."
When Bolduan asked him if he'd ever run for President again, Huntsman responded, "I love my country. I've given some of the best years of my life to public service. I will always be a public servant and step in whenever I can help my country. I'm not a politician in the sense that I'm just looking for something to do politically. I like helping my country. Like a lot of other good citizens in America. They want to step up when they know they can do something. And I'll always be ready to do that."
"New Day" airs weekday mornings from 6-9 a.m. ET on CNN.
@NewDay
http://www.facebook.com/NewDayCNN
http://www.cnn.com/NewDay