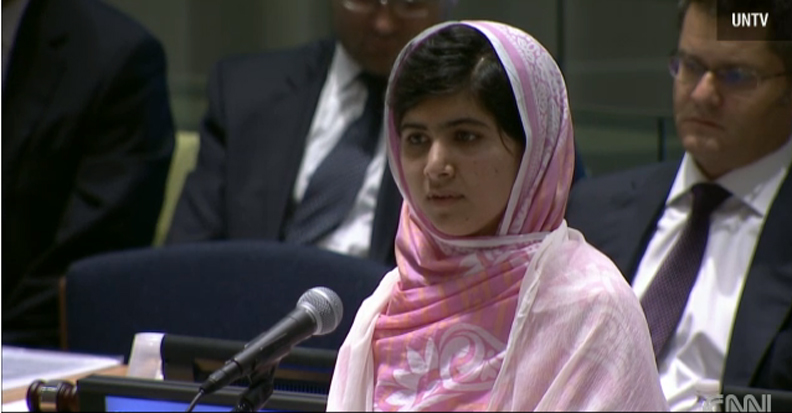 Amanpour
September 24th, 2013
CNN's Christiane Amanpour to Interview Malala Yousafzai
"The Bravest Girl in the World" will air on CNN Sunday, October 13th at 7 pm ET
CNN chief international correspondent Christiane Amanpour will host a special broadcast event on Malala Yousafzai, the 16 year old girl shot by the Taliban because she wanted to go to school.  The Bravest Girl in the World, airing on CNN Sunday, October 13th at 7 pm ET, will reveal a Malala you haven't seen before, featuring material exclusive to CNN.  Malala tells her story – of campaigning for girls' education, of the day she was shot, of her struggle to recover from her injury – but most of all, of her dreams and her drive to help millions of other girls go to school.
The program will include an interview with Malala, her father Ziauddin Yousafzai and a special introduction from Samantha Power, the US Ambassador to the United Nations.  The interview will take place in front of a live audience at the 92nd Street Y in New York City on October 10th.
At age 15, Malala was shot at point-blank range by the Taliban while riding the bus, because she insisted on going to school. Miraculously, the bullets aimed at her head did not penetrate the brain. Following several surgeries, she is once again waging her campaign for girls' education.  On July 12th – her 16th birthday – she gave a powerful call to the world to stand up for girls in her first speech since the shooting.
"The terrorists thought they would change my aims and stop my ambitions," she told the UN, "but nothing changed in my life except this:  weakness, fear and hopelessness died. "
Her memoir "I am Malala" will be published on October 8th, a day short of the year since her shooting.  In the book, Malala shares the remarkable tale of a family uprooted by global terrorism, of the fight for girls' education, of a father who championed and encouraged his daughter to write and attend school, and of the brave parents who have a fierce love for their daughter in a society that prizes sons.  She has also set up The Malala Fund (www.malalafund.org) which helps girls around the globe get access to the education they so desperately need.