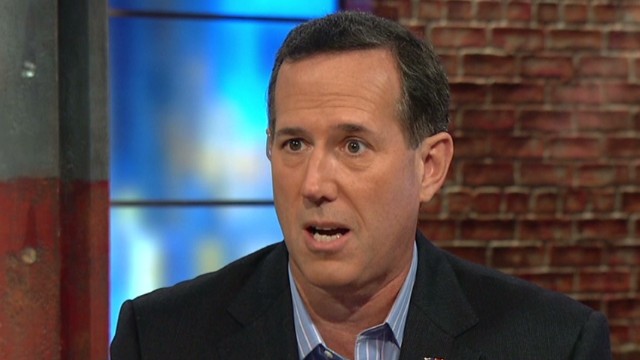 New Day
September 24th, 2013
Santorum: Pres. Obama shouldn't meet with "puppet," "fraud" Rouhani; the leader of Iran is Ayatollah Khamenei
Former Senator Rick Santorum appeared on "New Day" to talk GOP infighting, Senator Ted Cruz's plan to defund Obamacare, and his thoughts on a government shutdown. Later in the interview, Santorum addressed the possibility of President Obama meeting with Iranian President Hassan Rouhani at the United Nations General Assembly, and his new movie production company EchoLight Studios.
When Bolduan asked if he agreed with Senator Ted Cruz's fight to defund Obamacare to fund the government, Santorum replied, "My feeling is I would be with Ted Cruz in the sense that what happens in Washington, D.C. is everybody sort of muddles together and tries to sort of work things out. And when you have a President and Senate controlled by one party, that means generally speaking if you want more limited government, it's going to be bad deal, unless someone can plant a flag and say no, we're going to pull this discussion this way a little bit and not just do business as usual. And I think that's what Ted [Cruz] and Mike Lee and others have done. And I think that's a good thing. It's too soon to tell whether the strategy has worked or not."
On whether or not President Obama should meet with Iranian President Hassan Rouhani at the United Nations General Assembly, Santorum said, "The President of United States should never meet with someone who's not the president of their country. The leader of the Iran is the mullahs in charge is the Ayatollah… [Rouhani] is a puppet that they put up. The President of the United States should not meet with a puppet. That diminishes the presidency and diminishes the United States even further." He added, "No way he should be meeting with this fraud, as far as I'm concerned."
"New Day" airs weekday mornings from 6-9 a.m. ET on CNN.