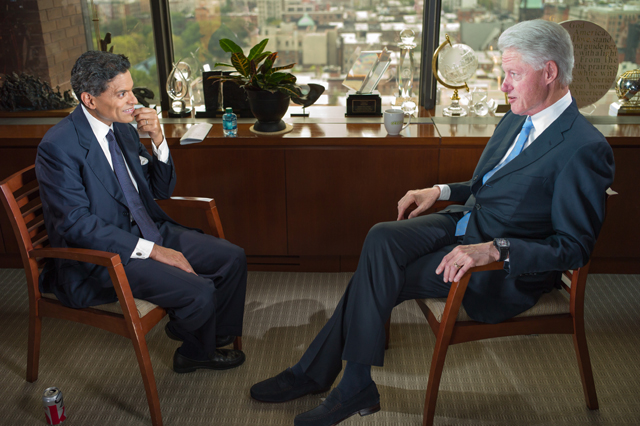 Fareed Zakaria
September 20th, 2013
President Bill Clinton joins Fareed Zakaria for Sunday, Sept. 22 – 10:00am and 1:00pm ET
CNN's Fareed Zakaria interviewed former U.S. President William Jefferson Clinton on Monday, Sept. 17, 2013 at his Manhattan Clinton Global Initiative (CGI) offices.
The wide-ranging interview included discussions of the crisis in Syria, the economy and potential government shutdown, and whether his wife, Hillary Rodham Clinton, may run for the presidency in 2016.  A preview of this interview may be found here.
The interview marks Clinton's exclusive sit-down for a television interview on the eve of the 2013 opening of his annual CGI conference.
This global television exclusive will air on FAREED ZAKARIA GPS on Sunday, Sept. 22, 2013 at 10:00a.m. ET on CNN/U.S. and at 7:00a.m. ET on CNN International.
The full transcript of this edition of Fareed Zakaria GPS may be found here.
Fareed Zakaria GPS airs Sundays at 10:00am ET on CNN/U.S. and at 3:00pm on CNN International.
###