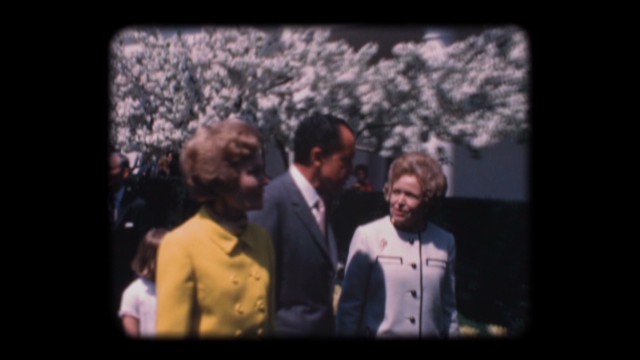 CNN Special Programming & Documentaries
August 1st, 2013
Watch OUR NIXON Tonight at 9pm ET and Join the Live Real-Time Social Conversation
Tonight at 9:00pm and 12:00am Eastern, CNN Films will present OUR NIXON, a new documentary featuring Super 8 home movie footage, filmed by the 37th president's closest White House aides.
Nixon chief of staff H.R. Haldeman, domestic affairs adviser John Ehrlichman, and special assistant Dwight Chapin, shot more than 500 reels of film between 1969 and 1973, creating a unique and personal visual record of the Nixon presidency.  Their films are complemented by archival newsreel and interviews in which each man reflects upon his relationship with the president, recounts the exhaustive work of White House service, and recalls Watergate.  The film also includes rarely broadcast excerpts from thousands of hours of Nixon's secret audiotapes.
While watching the film, CNN is inviting viewers to engage in a second screen experience with the co-producers, Penny Lane and Brian Frye, and CNN senior political analyst David Gergen (who worked for five U.S. presidents, including Richard Nixon), John Avlon, Margaret Hoover, several CNN reporters and correspondents and The Hoover Institution, within Stanford University.
CNN.com/OurNixonLive will feature Nixon trivia, behind-the-scenes images, relevant links, polls, and live tweets.
Viewers can participate by sharing their reactions and questions in real time on our live blog while they watch. They can also participate via Facebook and Twitter using the #OurNixon hashtag.
Additionally, CNN and GetGlue have teamed up to offer a limited-edition OUR NIXON sticker. The sticker can be unlocked by checking in while watching the documentary.
For extras and CNN's complete coverage of the OUR NIXON documentary, online users are encouraged to visit CNN.com/OurNixon and follow @CNNFilms on Twitter.  OUR NIXON encores on Sunday, August 4 and Saturday, August 10.