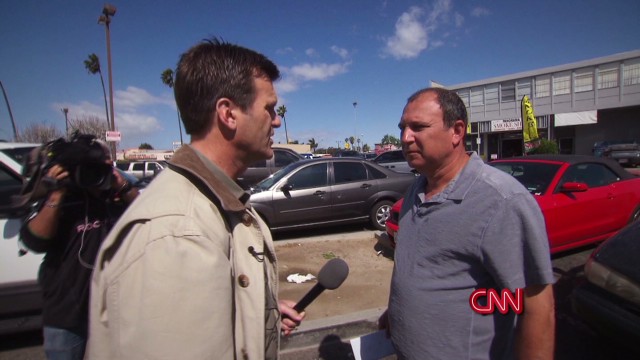 Drew Griffin
July 22nd, 2013
AC360 Series "Rehab Racket," Year-long Investigation by CNN and CIR Finds Widespread Fraud
A one-year groundbreaking investigation by The Center for Investigative Reporting and CNN into taxpayer-funded drug rehab programs, part of America's largest Medicaid program, has found widespread fraud, costing taxpayers tens of millions of dollars.
CIR and CNN reviewed thousands of pages of government records, interviewed dozens of counselors, patients, officials and investigators on the frontlines, and conducted undercover surveillance of troubled clinics.
The joint CIR/CNN investigation found that nearly half of the more than $100 million in public funds spent on the program in the last fiscal year goes to clinics that have shown signs of deception and questionable billing practices.
The three-part series, "Rehab Racket," premieres on Anderson Cooper 360° at 8 and 10 pm ET on July 29/30/31.
CIR will publish online articles starting the 29th. The CIR team includes reporters Christina Jewett and Will Evans, Senior Editor Amy Pyle, Director of Digital Media Susanne Reber and Editorial Director Mark Katches. The CNN team includes Investigative Correspondent Drew Griffin, Senior Investigative Producer Scott Zamost and Richard T. Griffiths, vice president and senior editorial director.
You can find the stories, including resources that explain how public money flows to rehab centers, biographies on the main players and more on their websites at cironline.org and cnn.com.
ABOUT THE CENTER FOR INVESTIGATIVE REPORTING
Investigative reporting is an essential pillar of a democratic society. For more than three decades, The Center for Investigative Reporting (CIR) has relentlessly pursued and revealed injustices that otherwise would remain hidden from the public. Today, we're upholding this legacy and looking forward, working at the forefront of journalistic innovation to tell the stories that make a difference and reach diverse audiences of all ages, across the aisle and worldwide. CIR stories appear in hundreds of news outlets, including NPR News, PBS Frontline, PBS NewsHour, CNN, the Los Angeles Times, The New York Times, The Washington Post, the San Francisco Chronicle, The Sacramento Bee, The Daily Beast and American Public Media's Marketplace. CIR stories have received numerous journalism awards, including the Alfred I. duPont-Columbia University Silver Baton, George Polk Award, Emmy Award, Investigative Reporters and Editors Award, and the MacArthur Award for Creative and Effective Institutions.  Its reports have sparked state and federal hearings and legislation, public-interest lawsuits and changes in corporate policies. For more information, please visit cironline.org.
ABOUT CNN CNN Worldwide is a portfolio of two dozen news and information services across cable, satellite, radio, wireless devices and the Internet in more than 200 countries and territories worldwide. Domestically, CNN reaches more individuals on television, the web and mobile devices than any other cable TV news organization in the United States; internationally, CNN is the most widely distributed news channel reaching more than 271 million households abroad; and CNN Digital is a top network for online news, mobile news and social media. Additionally, CNN Newsource is the world's most extensively utilized news service partnering with hundreds of local and international news organizations around the world. CNN is division of Turner Broadcasting System, Inc., a Time Warner Company.