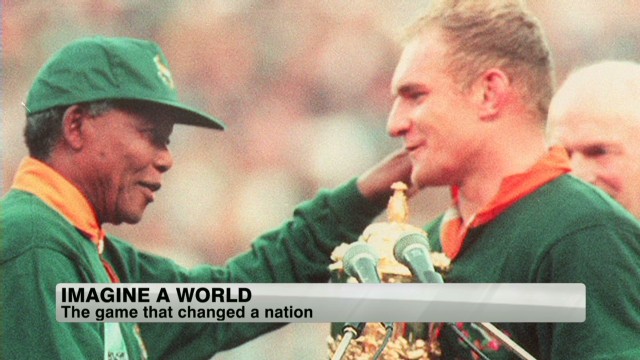 Amanpour
June 24th, 2013
Amanpour: This day in history, President Mandela and rugby united a nation South Africa
"A beautiful game that transformed a nation that day and in so doing transfixed the world," CNN host and chief international correspondent Christiane Amanpour recalled the 18th anniversary of the rugby game that became a watershed moment in South African history on today's AMANPOUR on CNN International.
On June 24, 1995, the South African rugby team, the Springboks won the nation's first-ever Rugby World Cup.  When then-President Nelson Mandela presented the winning team captain, Francois Pienaar, their trophy, the mostly white crowd in the stadium spontaneously erupted in surprise chants of "Nelson!"  It was a moment memorialized in a Hollywood film, and much more importantly, in the hearts and minds of South Africans – Black and White.
AMANPOUR airs weekdays on CNN International at 3:00pm and 5:00pm Eastern.  The full transcript for this edition of AMANPOUR may be found here: http://transcripts.cnn.com/TRANSCRIPTS/1306/24/ampr.01.html.
###