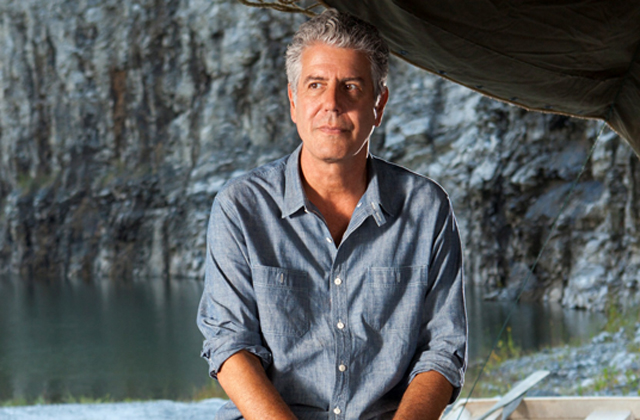 CNN Original Series
May 23rd, 2013
CNN Memorial Day Weekend Programming to Feature Back-to-Back Episodes of Anthony Bourdain: Parts Unknown
In Addition to the CNN Premiere of HBO Documentary Manhunt
CNN will begin its special Memorial Day weekend programming with the network's premiere of the lauded HBO documentary Manhunt on Friday, May 24 at 9 pm, ET, and feature back-to-back airings of six episodes of the popular CNN Original series Anthony Bourdain Parts Unknown. Additionally, there will be multiple airings of Beyond the Manhunts: How to Stop Terror – A Fareed Zakaria GPS Special, the HBO documentary There's Something Wrong With Aunt Diane, and Anderson Cooper 360° Special Report – Back to Boston: Moments of Impact.
Below are descriptions of the documentaries, Anthony Bourdain Parts Unknown episodes and the Anderson Cooper special report, followed by the full CNN Memorial Day weekend programing schedule.
MANHUNT
From HBO Documentaries, Manhunt, is a riveting tale of espionage as revealed by the real insiders who led the CIA's secret war against Osama bin Laden.  This documentary is based upon CNN terrorism analyst Peter Bergen's bestselling book, Manhunt: The Ten-Year Search for Bin Laden from 9/11 to Abbottabad (2012).
ANDERSON COOPER SPECIAL REPORT: BACK TO BOSTON – MOMENTS OF IMPACT
The images of the unforgettable tragedy at April's Boston Marathon are burned in memory…This Anderson Cooper Special Report looks at the iconic still photographs that vividly capture the unexplainable – images that capture both the horror and the heroism of the event.  CNN's Randi Kaye interviews the photographers who filmed the most memorable images and the people whose stories they immortalized.
ANTHONY BOURDAIN: PARTS UNKNOWN (MOROCCO/TANGIER)
CNN host Anthony Bourdain explores the "Interzone," where artists like Burroughs, Bowles, and the Rolling Stones sought escape from Western moral prohibitions and the possibilities of great empty spaces.  His quest is to find out if that "anything goes" attitude still exists.
ANTHONY BOURDAIN: PARTS UNKNOWN (CANADA)
CNN host Anthony Bourdain travels to remote areas within the province of Quebec where he samples local delicacies and explores ice fishing and beaver hunting.
ANTHONY BOURDAIN: PARTS UNKNOWN (LIBYA)
CNN host Anthony Bourdain explores Libyan hip-hop, Italian restaurants, tribal allegiances and post-war uncertainty in Libya.  Bourdain looks at the country through personal stories, food – and the music – of anti-Qaddafi rapper ex-patriots who returned to fight.
ANTHONY BOURDAIN: PARTS UNKNOWN (MYANMAR)
With the slight relaxation of control by the government of Myanmar, CNN host Anthony Bourdain takes his first trip to one of the most fabled and beautiful areas of Asia.
ANTHONY BOURDAIN: PARTS UNKNOWN (LOS ANGELES/KOREATOWN)
CNN host Anthony Bourdain takes Los Angeles–but with a twist.  No Hollywood sign, no Beverly Hills.  Instead, he zeroes in on a three square-mile area of the city known as Koreatown, where he finds a tight-knit community still marked by the 1992 Rodney King riots.
ANTHONY BOURDAIN: PARTS UNKNOWN (COLOMBIA)
The public face of Colombia has changed immensely over the past 10 years and is still changing for the better.  Anthony Bourdain explores several regions of the country from the mountains down to the Caribbean coast to the coca leaf growing inlands formerly controlled by drug cartels.
BEYOND THE MANHUNTS: HOW TO STOP TERROR – A FAREED ZAKARIA GPS SPECIAL
CNN's and TIME's Fareed Zakaria hosts an in-depth look into America's secret wars on terrorists in the homeland and abroad.  Zakaria also speaks with those closest to the hunt for 9/11 terrorist Osama bin Laden and others about how U.S. intelligence agencies have slowly evolved to take on some activities associated with the U.S. Military and the changing role of women in America's intelligence services.  Manhunt author and national security analyst Peter Bergen, former National Security Agency director Michael Hayden, The New York Times journalist Mark Mazzetti, former CIA director and U.S. Defense Secretary Leon Panetta, former FBI agent Ali Soufan, and former CIA officers Nada Bakos, Robert Grenier, and Cindy Storer contribute.
THERE'S SOMETHING WRONG WITH AUNT DIANE
From HBO Documentaries, There's Something Wrong with Aunt Diane, reveals previously unknown information about the notorious 2009 car accident that ended the lives of eight people, including four young children. Following the crash, the driver, Diane Schuler – wife, mother, and cable TV executive – was portrayed as a reckless drunk and overextended mother by some, and as a model wife, friend and worker by others.  The documentary recounts the day with a minute-by-minute retelling, and includes interviews with Schuler's family, friends, co-workers, eyewitnesses, first responders, investigators, and medical and psychiatric experts.  Also drawing upon surveillance footage, family photos, news clips, and expert testimony, the film seeks to explain how things could have gone so terribly wrong on New York's Taconic State Parkway on July 26, 2009.
Friday, May 24, 2013
9:00pm – 11:00pm        Manhunt
11:00pm – 12:00am      Beyond the Manhunts: How to Stop Terror – A Fareed Zakaria GPS Special
Saturday, May 25, 2013
12:00am – 2:00am        Manhunt
2:00am – 3:00am         Beyond the Manhunts: How to Stop Terror – A Fareed Zakaria GPS Special
3:00am – 5:00am         Manhunt
5:00am – 6:00am         Beyond the Manhunts: How to Stop Terror – A Fareed Zakaria GPS Special
8:00pm – 9:00pm         Anderson Cooper 360° Special Report – Back to Boston: Moments of Impact
9:00pm – 11:00pm        There's Something Wrong With Aunt Diane
11:00pm – 12:00am      Anderson Cooper 360° Special Report – Back to Boston: Moments of Impact
Sunday, May 26, 2013
12:00am – 2:00am        There's Something Wrong With Aunt Diane
2:00am – 3:00am         Anderson Cooper 360° Special Report – Back to Boston: Moments of Impact
3:00am – 5:00am         There's Something Wrong With Aunt Diane
5:00am – 6:00am         Anderson Cooper 360° Special Report – Back to Boston: Moments of Impact
8:00pm – 9:00pm         Anthony Bourdain: Parts Unknown (Myanmar)
9:00pm – 10:00pm        Anthony Bourdain: Parts Unknown (Los Angeles/Koreatown)
10:00pm – 11:00pm      Anthony Bourdain: Parts Unknown (Colombia)
11:00pm – 12:00am      Anthony Bourdain: Parts Unknown (Canada)
Monday, May 27, 2013
12:00am – 1:00am        Anthony Bourdain: Parts Unknown (Morocco/Tangier)
1:00am – 2:00am         Anthony Bourdain: Parts Unknown (Libya)
2:00am – 3:00am         Anthony Bourdain: Parts Unknown (Myanmar)
3:00am – 4:00am         Anthony Bourdain: Parts Unknown (Los Angeles/Koreatown)
4:00am – 5:00am         Anthony Bourdain: Parts Unknown (Colombia)
7:00pm – 8:00pm         Erin Burnett OutFront (LIVE)
8:00pm – 9:00pm         Anderson Cooper 360° (LIVE)
9:00pm – 11:00pm        Manhunt (HBO)
11:00pm – 12:00am      Beyond the Manhunts: How to Stop Terror – A Fareed Zakaria GPS Special