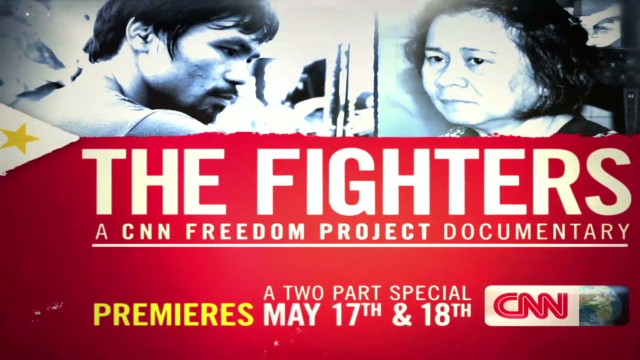 CNN Special Programming & Documentaries
May 1st, 2013
"The Fighters" documentary features human rights pioneer Cecilia Flores-Oebanda, boxer Manny Pacquiao
"THE FIGHTERS": NEW FEATURE-LENGTH CNN FREEDOM PROJECT DOCUMENTARY
HUMAN RIGHTS PIONEER CECILIA FLORES-OEBANDA, BOXER MANNY PACQUIAO JOIN THE BATTLE AGAINST MODERN-DAY SLAVERY IN THE PHILIPPINES
**Premiere: Friday, 17 May (Part I) & Saturday, 18 May (Part II)**
Following a two-year CNN investigation, the two-hour documentary The Fighters chronicles Philippine human rights pioneer Cecilia Flores-Oebanda in her journey to protect children from the sex trade and convince the Philippines' biggest star, Manny Pacquiao, to join her as a fighter in the battle against modern-day slavery.
It's estimated more than 100,000 children work in the sex trade in the Philippines. Since founding her anti-trafficking organization, Visayan Forum, in 1991, Cecilia Flores-Oebanda has helped more than 70,000 victims or potential victims of human trafficking.  She believes if Pacquiao, an elected congressman in the Philippines and the country's biggest star, champions her cause, it could mean a turning point.
But just when it begins to look like she's winning, allegations of fraud and missing funds threaten to ruin her life's work as she is forced to change her focus from saving children to saving the organization she set up to help them.
"The Fighters is a remarkable film that represents the very core of the CNN Freedom Project, namely a desire to shine a spotlight into the darkness of human trafficking and to champion those who have dedicated their lives to ending it," said Tony Maddox, executive vice president and managing director for CNN International.
"This documentary also represents a formidable journalistic achievement, the culmination of more than two years of tenacious, tireless reporting. I salute those who have brought it to our screens and, with it, discussion on this critical issue into millions of homes around the world," he added.
Airing on CNN International on two consecutive nights beginning in May, The Fighters provides a unique glimpse into the world of combating human trafficking through the eyes of those risking their lives so that others may live theirs in freedom. It explores themes of social justice and globalization, as well as offering insight into both the benefits and drawbacks inherent in governmental-charity-celebrity partnerships.
'The Fighters' is produced and narrated by Leif Coorlim, executive editor of the CNN Freedom Project.
'The Fighters' broadcasts on CNN International at the following airtimes:
 Friday May 17/ Part I                                      Saturday May 18 / Part II
| | |
| --- | --- |
| 7:00amUS ET / 7:00pm HKT | 7:00amUS ET /7:00pm HKT |
| 4:00pmUS ET / 4:00am HKT (Saturday) | 4:00pmUS ET / 4:00am HKT (Sunday) |
| 10:00US ET / 10am HKT (Saturday) | 10:00pmUS ET / 10:00am HKT (Sunday) |
About The CNN Freedom Project
The CNN Freedom Project produces original reports, articles, and documentaries on human trafficking in all of its forms – from debt bondage in India to sex trafficking rings in Southern California and African slaves in the Sinai desert.  In addition, the production team curates digital resources with information on global advocacy groups working against human slavery.  Users of www.cnn.com/freedom can find details on how to support or volunteer with anti-slavery organizations, watch CNN Freedom Project videos, and read in-depth articles and behind-the-scenes reporters' notebook stories from the journalists reporting for CNN Freedom Project investigations.
The CNN Freedom Project has generated more than 300 stories of modern-day slavery from across five continents.  Lisa Cohen and Leif Coorlim produce for the CNN Freedom Project, which is overseen by CNN International's senior vice president for programming, Mike McCarthy.  Many notable figures in the fight against human trafficking have partnered with the CNN Freedom Project since its launch, including Nick Cannon, Common, Emmanuel Jal, Anil Kapoor, Demi Moore, and Mira Sorvino.
###

Related links
The CNN Freedom Project blog – http://thecnnfreedomproject.blogs.cnn.com/
The CNN Freedom Project on Twitter – http://twitter.com/cnnfreedom
The CNN Freedom Project via Facebook – http://www.facebook.com/CNNFreedom