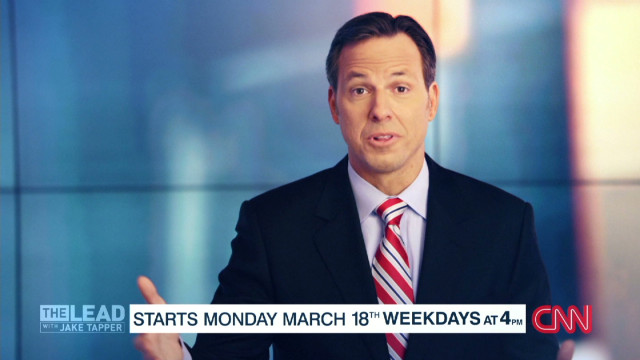 CNN
March 6th, 2013
Jake Tapper's "The Lead" Debuts Monday, March 18 at 4pm ET
The newest addition to CNN's weekday afternoon line-up, The Lead with Jake Tapper, will premiere at 4 p.m. ET on Monday, March 18. Anchored by chief Washington correspondent Jake Tapper, the one-hour program will draw not only on Tapper's deep knowledge of politics and national issues, but also seek to examine and advance stories across a wide range of topics that demonstrate his own curiosities and interests. Compelling headlines will come from around the country and the globe, from politics to money, sports to popular culture, based on news drivers of the day.
Tapper's prolific tweeting will extend to his program, which will aggregate and incorporate trends and response from social media into the reporting of stories that are part of the national consciousness. Users should follow @jaketapper and @theleadcnn. Original digital content including exclusive video and blog posts will appear on CNN.com/thelead beginning March 18.
Federico Quadrani is the executive producer of The Lead with Jake Tapper, as announced last month.
CNN Worldwide, a division of Turner Broadcasting System, Inc., a Time Warner Company, is the most trusted source for news and information. Its reach extends to nine cable and satellite television networks; one private place-based network; two radio networks; wireless devices around the world; CNN Digital Network, the No. 1 network of news Web sites in the United States; CNN Newsource, the world's most extensively syndicated news service; and strategic international partnerships within both television and the digital media.