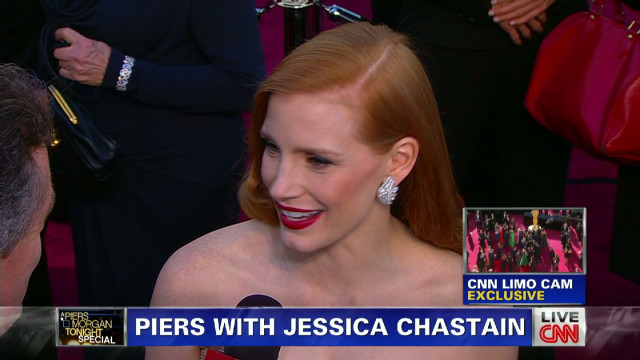 CNN
February 24th, 2013
Piers Morgan interviews Jessica Chastain and Amy Adams at the 85th Academy Awards
This evening, on Hollywood's biggest night of the year, Piers Morgan hosted CNN's live red carpet coverage of the 85th Academy Awards. Interviewing everyone from Dustin Hoffman and Tommy Lee Jones to Jennifer Lawrence and Sally Field, the host of "Piers Morgan Tonight" patrolled the event's signature crimson walkway for more than two hours, dishing on everything from the drama to the dresses.
Welcoming Jessica Chastain for a conversation equal parts endearing and entertaining, the star of "Zero Dark Thirty" explained the vision behind her strapless Armani gown:
"The dress reminded me, it was a 'Happy Birthday, Mr. President' kind of dress," said the Best Actress in a Leading Role nominee. "It's an honor to wear a dress that evokes old Hollywood."
Soon after, Morgan chatted with Amy Adams, another nominee in one of the evening's premier categories. Watch here.