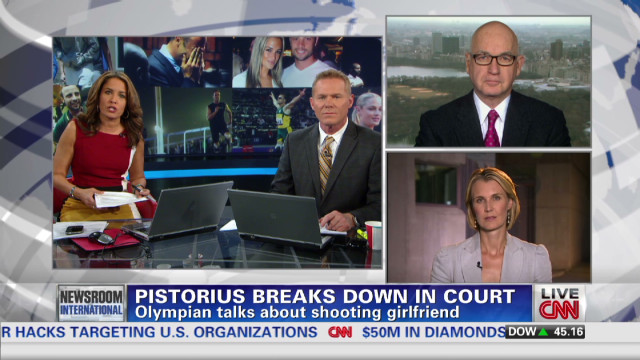 Robyn Curnow
February 19th, 2013
Robyn Curnow reports on Oscar Pistorius' bail hearing
On Monday's edition of Newsroom International with Suzanne Malveaux and Michael Holmes, CNN's Robyn Curnow – who attended Oscar Pistorius' bail hearing in Pretoria Tuesday – reports on the track star's emotional affidavit read out in court. She also describes the "palpable fear" South Africans feel in their homes at night.
"A lot of people don't understand the context of living in South Africa. People – myself included – have high walls with electric fences…panic buttons in our houses. The palpable fear that you feel when you go to bed at night is real," says Curnow. "This is a nation of paranoid people because the reality is that more often than not, you are…very likely to be confronted by armed men coming into your house. I think you have to put that into perspective – that people are scared when they go to sleep in this country."
For more on this story go here. Follow Robyn on Twitter @RobynCurnowCNN.