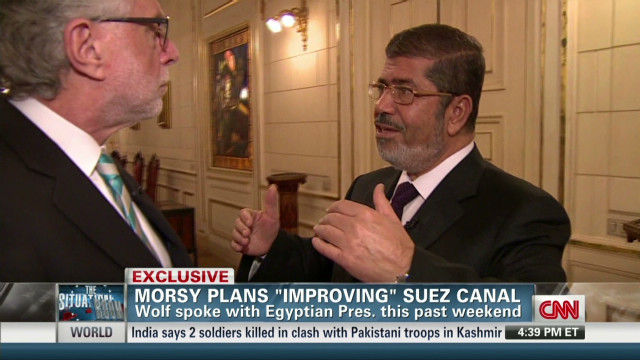 CNN
January 8th, 2013
Egyptian Pres. Mohamed Morsy to CNN's Wolf Blitzer: I think our grandchildren will take it [freedom] for granted.
Egyptian President Mohamed Morsy sat down with CNN's Wolf Blitzer for an exclusive interview to talk about freedom in Egypt, investment for the Suez Canal and more. Highlights from the interview are after the jump. Tune in today during the 5 p.m. ET hour for more of Blitzer's interview.
Additional parts of the interview will continue to run this week on The Situation Room with Wolf Blitzer, 4 p.m. to 7 p.m. on CNN and CNN International.
MANDATORY CREDIT: CNN's "The Situation Room with Wolf Blitzer"
VIDEO – Morsy: "When you change it takes time"
http://www.cnn.com/video/#/video/bestoftv/2013/01/08/tsr-morsy-blitzer-egypt-change.cnn

Highlighted Excerpts from Full Interview
THIS IS A RUSH FDCH TRANSCRIPT. THIS COPY MAY NOT BE IN ITS FINAL FORM AND MAY BE UPDATED.
Foreign Investment for the Suez Canal
MORSY:  I'm talking about enrichments along the Suez Canal.  We have almost 200 kilometers or something between Suez and Port Said, and this can be an area where you can invest, investors from outside and from the Egyptians also, can make real production area.  Industry.  We – I want to have this area as a real advanced, developed area along the Suez Canal.
BLITZER:  So you're looking for foreign investment.
MORSY:  Yes.
BLITZER:  From the U.S., China.
MORSY:  Yes, from the U.S., from the others.  Yes, from China, from Russia, from the Arabs, from the Egyptians outside of – from Europe.  Well, you know, the real key entrance to Africa is Egypt.  The logistic health to investors for Africa can start from Egypt.  We have the Suez Canal, we have a seashore for (INAUDIBLE) and also the Mediterranean Sea.  We have the Nile River.  We can go through with the people to Africa, to Sudan, to Libya, also, to Chad.
Arab Spring
MORSY:  Well, I would say to start real stability and development, there are steps.  We may take six months or a year.  To reach what we want, I think we may take five or ten years to reach 60, 70 percent of what we want.
Morsy on his Time in Jail
BLITZER:  They even put you in jail.  You spent a few months in jail.
MORSY:  Yes, of course.
BLITZER:  How many months were you in jail?
MORSY:  Seven months or something.
BLITZER:  What was that like?
MORSY:  Bad.  Very bad.  But I mean, I'm talking about freedom.
(CROSSTALK)
BLITZER:  When you're in jail, you appreciate freedom when you're out of jail.  So you appreciate freedom having lived through that seven months in jail.
MORSY:  Do you think anyone in this world wouldn't appreciate freedom?
BLITZER:  Some people who've had it their whole life, they take it for granted.  But you appreciate it.
MORSY:  Yes, well, I think our grandchildren will take it for granted.  But we have been suffering together and then we're moving together to the new position, real freedom, democracy, good welfare.
Middle East Politics
Wolf:  Do you believe in a two-state solution that will allow Israel and Palestine to live side by side?
Morsy:  The Palestinians have the full right, without any interference from anyone to decide whatever they want for themselves.  And now, I'm working on a substantial and much needed conciliation between the Palestinians, between the Palestinian factions, between Fatah and the other factions, Hamas and others, so that they can be unified in one opinion. And it's them who decides.  I support them in what they decide.  They have the right.  They own the right.  It's only them who have the right to decide their destiny themselves. And, by the way, this is stated in the peace treaty.  The Palestinians decide what they want and I respect their decisions.
On Meeting with Israeli Leaders
Wolf:  In other words, if there's such a meeting between you and an Israeli leader will have to wait until there's an agreement between the Israelis and the Palestinians?
Morsy:  I believe this question is not in its place now.  Between us and the world, there are diplomatic relations.  And everybody knows that. So I see that this is not the place for this question now. I respect the peace treaty.  I am keen on respecting what Egypt has signed as a state previously, at the international level.  I respect the will of the world. But this does not conflict at all with my support for the Palestinians in their full-fledged rights and that they attain them. When this happens, the Egyptians are going to express their views.
###