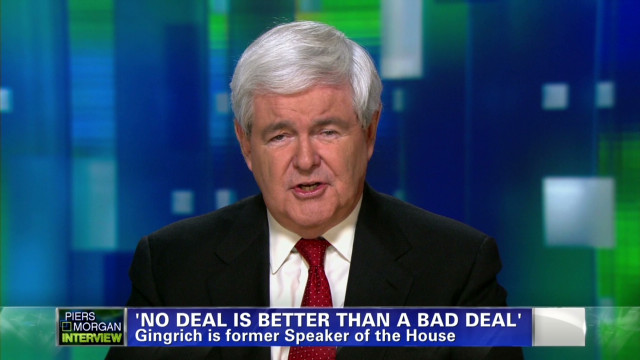 CNN
December 5th, 2012
Piers Morgan Tonight: Newt Gingrich on the Fiscal Cliff
Last night Newt Gingrich joined CNN's Piers Morgan and offered his take on the fiscal cliff:
"I am, frankly, not at all encouraged by what I see and a little bit worried by it. I think, first of all, let me lay my cards on the table: I think that no deal is better than a bad deal," said the former Speaker of the House. "I think going off this cliff is less dangerous than letting things build up for a year or two years to have an even bigger cliff."
As his discussion with Morgan continued, the one-time candidate for the Republican presidential nomination offered some advice for the GOP:
"They need to relax. They don't have an election until November of 2014. They need to say 'look, you want to negotiate seriously, we'll sit down and talk. You don't want to negotiate seriously, the country will survive going off this cliff.'  Watch more here.