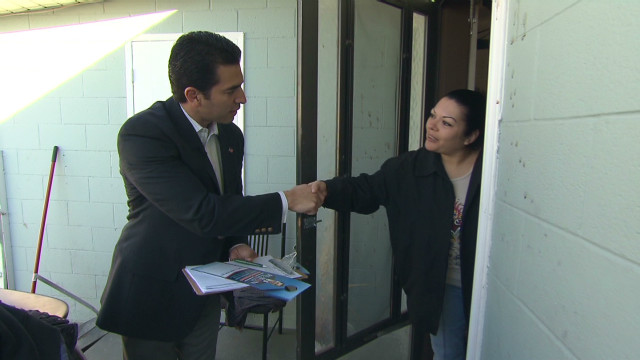 CNN Presents
October 2nd, 2012
Soledad O'Brien Examines the Chase for Latino Votes in Nevada and Beyond
Latino in America: Courting Their Vote debuts Sunday, Oct. 7 at 8:00p.m. ET & PT
Nearly 60,000 Latinos turn 18 each month in the United States and many pollsters predict the collective impact of Latino votes will be a deciding factor in several of the most contested "battleground states" for the 2012 presidential election.  CNN anchor and special correspondent Soledad O'Brien reports on how Democrats and Republicans are reaching out to the swing voter demographic of Latinos, with a lens on the pivotal state of Nevada, a state with both the fastest-growing Latino community in the nation, and a state that has voted for the last 24 of the last 25 U.S. presidents.
Latino in America: Courting Their Vote debuts on CNN/U.S. on Sunday, Oct. 7 at 8:00p.m. and 11:00p.m. ET and PT.
According to the Pew Hispanic Center, there are 24 million Latinos eligible to vote in the 2012 election.  O'Brien interviews political heavy-hitters of both parties who are courting these voters, including Los Angeles Mayor Antonio Villaraigosa (D), a surrogate for President Obama's campaign and chairman of the Democratic National Convention, and Hector Barreto (R), one of the chairmen of "Juntos Con Romney" – the Latino outreach organization for Governor Romney's campaign.  Barreto is the former Administrator of the U.S. Small Business Administration (2001 to 2006).
O'Brien also debriefs the challenging statistics motivating Nevada's Latinos to the polls: high unemployment, foreclosures, improved public schools, and asks – "is either party really listening?"
In Nevada, O'Brien speaks to Democratic state senator Ruben Kihuen, who had hoped to be Nevada's first-ever Latino U.S. Congressman.  He feels his biography represents the aspirations of many Latinos.  Born in Guadalajara, Mexico, Kihuen came to the U.S. with little more than a backpack, quickly focused on his education, graduated from the University of Nevada, became a community activist, and eventually was elected to the Nevada State Assembly.   But, O'Brien asks Kihuen if deferred hopes for comprehensive immigration reform indicate that Democrats are not truly committed to Latinos – beyond seeking their votes.
Republican Cecilia Aldana left Peru 30 years ago for America, working her way up from housekeeper to bank teller, to managing a lucrative chain of medical clinics which cater to Latinos.  Aldana wants to help her party do more to focus on jobs, business-friendly immigration policies, and education to support the aspirations of Latinos like her – and, Aldana tells O'Brien, that the GOP does not engage her community with issues important to her community.
Latino in America: Courting Their Vote will replay on the network on Saturday, Oct. 13 at 8:00pm and 11:00pm ET and PT on CNN/U.S.
In addition to the documentary, a CNN/ORC International poll with exclusive polling of Latino adults will explore the presidential. preference of Latino voters as well as  key campaign issues of importance to Latinos in America.  Also, CNN/U.S. will air a series of special enterprise reports on Latinos active in the conservative and Occupy movements, examining how the Latino demographic is impacting politics across the country, analysis of campaign messages directed towards Latino voters, reporting on debate performance feedback from Latino students from the first presidential debate, and more.
Online users can find continuing coverage on election demographic issues, as well as how new voting laws may impact the 2012 election, at www.cnn.com/inamerica.  For breaking political news, opinion editorials, and campaign developments, users can follow CNN's Political Ticker via Twitter and visit CNNPolitics for additional content.
Kimberly Arp-Babbit is the senior producer for Latino in America.  Cameo George,Robert Howell,Tina Matherson, Elizabeth Nunez, Dave Timko are the producers.  Jennifer Hyde is the managing editor and Bud Bultman and Geraldine Moriba executive produced this documentary for CNN.
CNN Worldwide, a division of Turner Broadcasting System, Inc., a Time Warner Company, is the most trusted source for news and information. Its reach extends to nine cable and satellite television networks; one private place-based network; two radio networks; wireless devices around the world; CNN Digital Network, the No. 1 network of news Web sites in the United States; CNN Newsource, the world's most extensively-syndicated news service; and strategic international partnerships within both television and the digital media.
-30-