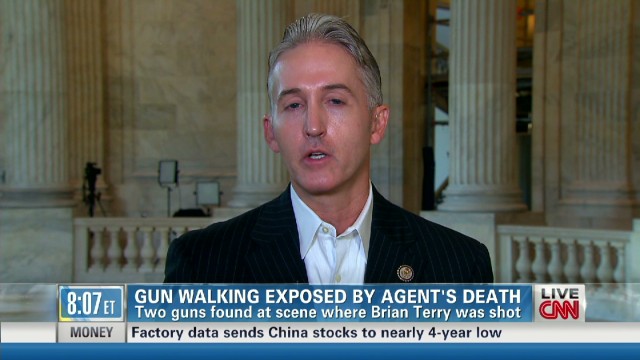 Starting Point
September 20th, 2012
Rep. Gowdy says AG Eric Holder not vindicated; Soledad O'Brien disagrees
Rep. Trey Gowdy (R-SC) tells CNN Anchor Soledad O'Brien that he does not believe the Inspector General report fully vindicates Attorney General Eric Holder from the 'Fast and Furious' operation, suggesting that his lack of leadership could have been partly responsible for the failings of the department.
When O'Brien asks if he thinks Attorney General Eric Holder has been vindicated, Rep. Gowdy says, "I guess it depends on your definition of vindication. When you lead a law firm… and people under you are being disciplined and sanctioned and cited for malfeasance, I don't think that's a vindication."
He continues, "Anyone who thinks the Attorney General is vindicated, it would be tantamount to this…. I want you to imagine this headline: Passengers charged with speeding, driver exonerated. He is the driver of the Department of Justice."
"I'm not sure that's a fair analogy," O'Brien says.
When Gowdy asks "why not," she answers, "Because I think that the driver is the person who literally is driving the car…. The driver would know the speed they're going. And in a way, according to the report, which I have here page 453, 'We determine that Attorney General Eric Holder did not learn about 'Operation Fast and Furious' until late January or early February 2011.' And the entire report does vindicate him. They name specifically fourteen people…."
Later in the interview, he adds, "I have consistently said I have no evidence that Attorney General Holder knew about gun-walking before you and I knew about it. The question then is, should he have known about it? Is there a failure to supervise and lead within the department? And that is not a political question. I would ask the exact same question if Jason Chaffetz or one of my Republican colleagues were the attorney general."
Starting Point with Soledad O'Brien airs weekday mornings from 7-9am ET on CNN.