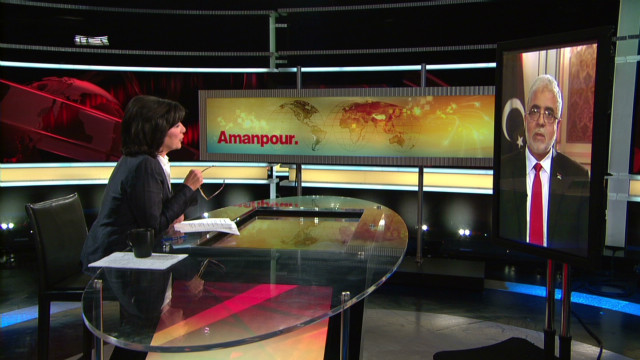 Amanpour
September 13th, 2012
Prime Minister of Libya: "arrests have been made"
In his first interview since being newly elected Prime Minister Mustafa Abushagur of Libya CNN's Christiane Amanpour spoke to Mr. Abushagur about the murders of four American diplomats in Benghazi on Tuesday, September 11, 2012, including Ambassador J. Christopher Stevens.
Prime Minister Abushagur confirmed that the first "arrests have been made" – and that the investigation into other people who may have been involved in the murder is ongoing.  He acknowledged that authorities in Libya are also investigating whether the assault on the American consulate was the result of organized "extremist" groups.
On behalf of his nation, the Prime Minister also offered condolences to the families of the murdered diplomats and to the American people.
Amanpour airs weekdays on CNN International at 3:00pm with a replay at 5:00pm Eastern in the U.S.   The full transcript for this edition of this program is available here.  In Europe, Amanpour airs on CNN Internatioanl at 21:00 CET, with a replay at 23:00 CET.
###