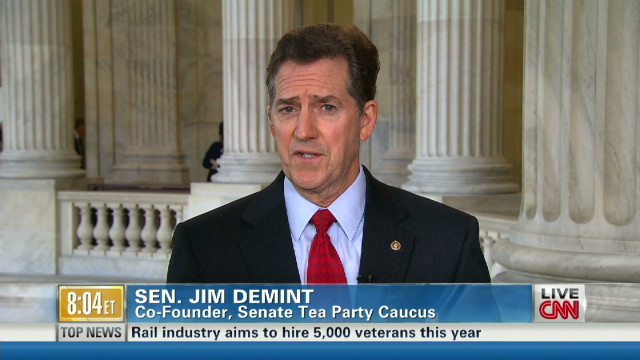 Starting Point
July 11th, 2012
Sen. DeMint: Health care repeal vote is 'important vote; 'not political posturing'
Senator Jim DeMint (R-SC) tells CNN's Soledad O'Brien that the Affordable Care Act is a 'huge federal program that's too big to succeed' and should be repealed because millions will lose health insurance and many states will go bankrupt. He adds that every American should have access to affordable health care at the state level that respects the relationship between the patient and doctor.
Sen. DeMint says, "It's an important vote, Soledad, because as we've had a better chance over the last couple of years to look at this bill, we know that millions of Americans are going to lose their health insurance if it's implemented next year. We know many states are going to be bankrupted by this whole process. We know it's going to cost a whole lot more than they said it would cost…. . We have to repeal this bill. And begin to replace it with common sense ideas that are going to help more Americans get health insurance instead of lose it, which apparently they are."
He continues, "We have seen survey after survey of employers who are going to drop the insurance they have now. A number of states have come to Washington saying this will bankrupt their states. This is not political posturing. These are real facts. And what we're going to replace it with is what you've heard Mitt Romney talking about. We need to give the states more flexibility to help individuals own their own health insurance, policies that they can keep from job to job, and hopefully into retirement. And a lot of states have begun that process. So, there are ways to get people insured without a huge federal program that's too big to succeed."
Starting Point with Soledad O'Brien airs weekday mornings from 7-9am ET on CNN.