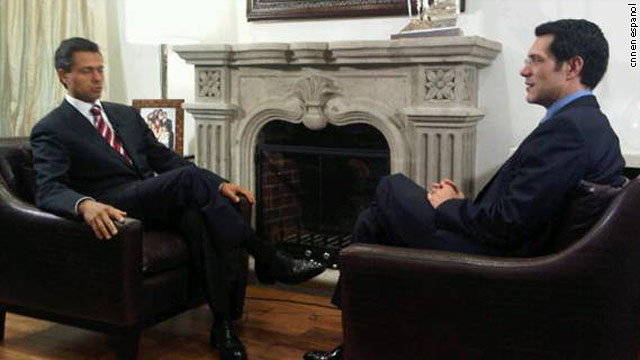 CNN en Espanol
July 2nd, 2012
CNN en Español Interview with Projected Winner of the Mexican Presidential Election Enrique Peña Nieto
Today at 7:00 pm (ET), CNN en Español will broadcast an interview with the projected winner of the Mexican presidential election, Enrique Peña Nieto, hosted by CNN en Español's anchor Mario Gonzalez.
Peña Nieto will reiterate his call to build a national reconciliation agreement. He will also discuss his political plans for the next five months, principally focusing on fiscal and energetic reforms.
Moreover, he will talk about the phone calls he received from world leaders congratulating him on his win. He will specifically discuss the phone call he received from President Barack Obama where they talked about Mexico's future relationship with the U.S. Additionally, he will respond to questions about his opinion on the electoral process in the U.S. and his preference over the U.S. presidential candidates.
CNN en Español will broadcast the interview with Enrique Peña Nieto, today at 7:00 pm (ET).
CNN en Español
CNN en Español, the first 24-hour television network of CNN independently produced in a language other than English, was launched March 17, 1997.  It provides continuous news coverage of news that is most relevant to the region and the world, with context and in-depth analysis, and shows that go in-depth with topics like economy, finances, health, technology and entertainment.  Since its launch, CNN en Español has multiplied its subscriber base up to 29 million households and hotel rooms in Latin America and 7 million households in the United States.  In its 15 years, the network has set the standard for credible, timely and relevant news coverage that offers viewers a unique way to engage with their world, providing them with all the news, information and actuality they need to stay informed and make smart decisions to secure their futures.
·                     Mariana Piñango, Latin America – mariana.pinango@turner.com
·                     Isabel Bucaram, US – isabel.bucaram@turner.com