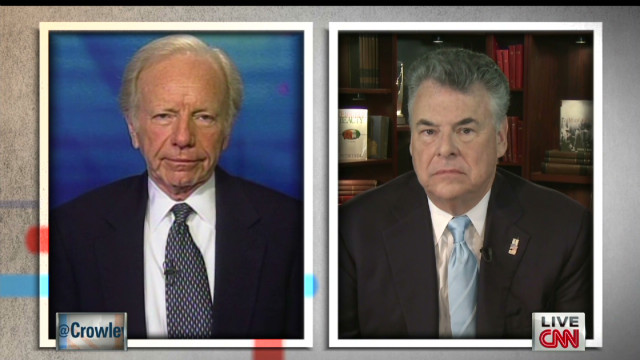 State of the Union with Candy Crowley
May 13th, 2012
Sen. Lieberman announces public hearing on Secret Service scandal
Today on CNN's State of the Union with Candy Crowley, Sen. Joseph Lieberman (I) and Rep. Peter King (R) discussed the assassination of a senior member of Afghanistan's High Peace Council, the secret service scandal and more. Sen. Lieberman told CNN's Candy Crowley, "I haven't announced it, but first I'll announce it this morning.  On May 23rd, at which we're going to have Director Mark Sullivan of the Secret Service and the acting inspector general of the Department of Homeland Security, Charles Edwards."
A highlight is after the jump; a full transcript of this interview will be posted on http://archives.cnn.com/TRANSCRIPTS/2012.05.13.html.
MANDATORY CREDIT: CNN's "State of the Union"
EMBEDDABLE VIDEO:  The race to stopping Al Qaeda
http://cnn.com/video/data/2.0/video/bestoftv/2012/05/13/exp-sotu-lieberman-king-part-1.cnn.html

Highlighted Excerpt
THIS IS A RUSH FDCH TRANSCRIPT. THIS COPY MAY NOT BE IN ITS FINAL FORM AND MAY BE UPDATED.
CANDY CROWLEY, HOST:  Joining me now are the chairmen of the Senate and House Homeland Security Committees, independent Senator Joseph Lieberman and Republican Congressman Peter King.  Thank you both so much.  I want to talk to you first about this breaking news we have of the former Taliban minister who had been helping with trying to bring the Taliban into the peace process is basically assassinated this morning.  Congressman King, do you have any feel for how much impact this might have on U.S. efforts to get out, frankly?
REP. PETER T. KING, R-N.Y.:  Well, I think all of these incidents show how difficult it still is in Afghanistan, and quite frankly, I think we should not be giving these target dates for getting out.  But apparently this is set now.  And it just shows again how tough Afghanistan is, that we shouldn't be leaving prematurely, and there's a lot of work on the ground that has to be done, and it's a very dangerous place in the world.
But the real expert is Joe Lieberman.  He spends a lot of time in Afghanistan.  And I think he would agree that is really a very, very tough situation.
We made a lot of progress, especially under General Petraeus and General Allen, but more does remain to be done.
CROWLEY:  Senator Lieberman, if I were to read these tea leaves, it would say to me the Taliban is not the least bit interested in peace talks.
SEN. JOSEPH I. LIEBERMAN, I-CONN.:  Yes, I agree.  They're not interested in genuine peace talks.  I mean, we have been integrating, reintegrating lower-level Taliban who have come back over to the side of the Afghan national security forces over the last couple of years, but the people at the top of the Taliban in my opinion are not interested in reconciliation.
This is the second murder of this kind of somebody high up in Afghanistan who turned and tried to be a peacemaker.  So it's obvious they don't want peace right now.  And until we continue and unless we continue to put pressure on the Taliban, they are never going to come to the table and have genuine peace negotiations.
I think the important message here is to the policy makers right up to the president about the pace of withdrawal of our forces from Afghanistan.  Right now, we're going to take out about 30,000 that are there now by the end of this year.  The big debate will be what to do with the remaining 68,000.  I think General Allen, our commander in Afghanistan, has made clear that he wants to leave that 68,000 there through the end of the fighting season in Afghanistan next year, which would be through the fall or early winter.
I sure hope the president as commander in chief supports General Allen's opinion, because I think it's the right one, and the murder yesterday in Kabul makes that very clear.
CROWLEY:  Congressman, let me move you on to this discovery or really sort of an intelligence victory of getting a hold of a suicide bomb, sort of the underwear bomb take
###