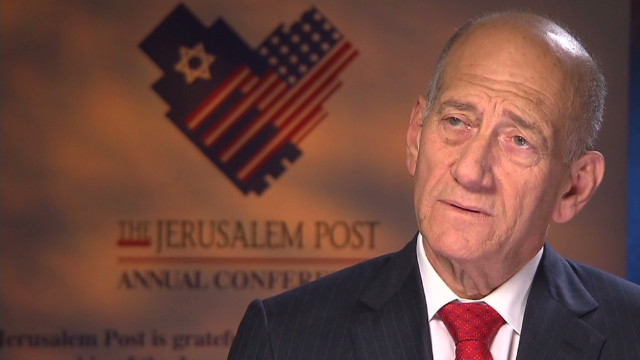 Amanpour
April 30th, 2012
Fmr. Israeli Prime Minister Olmert: "I know one thing…the Iranian leadership has not gone beyond a certain line for the time being of developing the nuclear program"
For the Monday, April 30 edition of Amanpour, host Christiane Amanpour interviewed former Israeli Prime Minister Ehud Olmert on Iran's nuclear program and the ongoing uprising inside Syria.  This is the exchange regarding Mr. Olmert's views on the security intelligence regarding Iran:
CHRISTIANE AMANPOUR, HOST of 'AMANPOUR' on CNN INTERNATIONAL:  There's a big debate going on within Israel right now, mostly by the security community. Meir Dagan, the former head of Mossad, in fact, your current head of the IDF, General Benny Gantz and others, calling the Iranian leadership rational and questioning whether there should be a rush to military action against Iran, or whether Iran will rush to make a nuclear bomb.  Do you agree with the description of the leadership as rational?EHUD OLMERT, FORMER PRIME MINISTER OF ISRAEL:  I know one thing, that the Iranian leadership has not gone beyond a certain line for the time being of developing the nuclear program.  And that shows that they are at least thoughtful, which means that they are not rushing, but they are calculating the steps, being aware of the possible ramifications of what they do to Iran itself, which is what they want them to understand. 
And at the same time, we have to create a capacity to defend ourselves in the event that they will not, and at the same time we have to encourage the international community quietly, by the way, without talking so much, without talking so that everyone will hear you from end of the world to the other, (inaudible) to take measures, sanctions, economic pressure and so on and so forth.  But also not to rush for certain military actions which are not essential at this point.
Amanpour airs weekdays on CNN International at 3:00pm with a replay at 5:00pm Eastern in the U.S.  and at 21:00 CET, with a replay at 23:00 CET.  This program will also be available via www.cnn.com/amanpour on Monday, April 30.  The full transcript of this program may be found here later today.
###