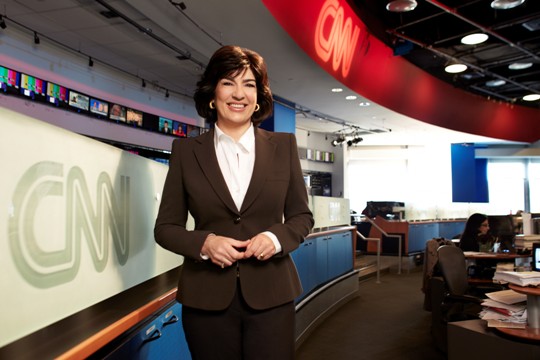 Amanpour
April 25th, 2012
PREVIEW: CNN International Programme Information Weeks 19 & 20
The Royals: Kate, Duchess of Cambridge

Friday 04 May at 1630 BST / 1730 CET               
Saturday 05 May at 1400 BST / 1500 CET and 2130 BST / 2230 CET               
Sunday 06 May at 1030 BST / 1130 CET and 2130 BST / 2230 CET               
Monday 07 May at 0430 BST / 0530 CET and 0830 BST / 0930 CET
Tuesday 08 May at 1030 BST / 1130 CET and 1730 BST / 1830 CET
Wednesday 09 May at 0530 BST / 0630 CET
Duration: 30 minutes
Who is the Duchess of Cambridge? Kate Middleton we knew: an English girl, from a comfortable middle class background who went to university and bagged her Prince. But since the 'wedding of the century' her life has changed beyond recognition.
As the first anniversary of their marriage passes, William and Catherine, the Duke and Duchess of Cambridge, celebrate a year of married life but also another milestone for Catherine – her graduation as an independent working royal.
In 'Kate, Duchess of Cambridge' CNN's Royal Correspondent, Max Foster, is granted exclusive access to a senior royal source to find out what's gone into her training and how Catherine feels about her first year in the Royal Family. He also speaks to key figures in her working life: the leaders of her chosen charities, the official photographers who have captured enduring images of her and those who helped transform her into a style icon.
More after the jump
Amanpour                                 

    

** NEW **
Airs Monday – Friday at 2000 BST / 2100 CET.
Replays at 2200 BST / 2300 CET and the following day at 1000 BST / 1100 CET. Also airs Sundays 0030 BST
Duration: 30 minutes 
Christiane Amanpour returns to CNN International at a crucial time – as the world is witnessing the greatest political and social upheaval in a generation. As the uprisings of the Arab Spring have exploded and nations across the world have faced crises of both leadership and economic survival, 'Amanpour' showcases Christiane's powerful interviewing skills. She demands answers from world leaders – answers that decide life-and-death issues for millions of people.
After three decades covering the world, Christiane draws upon her personal knowledge of the leaders and regions in crisis – using her insider's knowledge, she analyses the real impact and the ultimate outcomes.  As always, 'Amanpour' showcases the big interview – a leader, a key player – incisive questioning to get at the truth behind today's headline.
Since the programme returned to screens in April, guests have included: President of Afghanistan, Hamid Karzai; President of Uganda, Yoweri Museveni; French philosopher and journalist, Bernard Henri-Levy; US House Minority Leader, Nancy Pelosi and UN Ambassador, Susan Rice.
www.Amanpour.com
www.Amanpour.com/Facebook
@CAmanpour
 
Friday 11 May at 1630 BST / 1730 CET
Saturday 12 May at 1400 BST / 1500 CET and 2100 BST / 2200 CET
Sunday 13 May at 1030 BST / 1130 CET and 2130 BST / 2230 CET
Monday 14 May at 0400 BST / 0500 CET and 0830 BST / 0930 CET
Tuesday 15 May at 1030 BST / 1130 CET and 1700 BST / 1800 CET
Wednesday 16 May at 1730 BST / 1830 CET
Duration: 30 minutes
From 1950 and into the 1990s, hundreds of babies went missing in Spain, believed stolen from hospitals.  There are incredible stories of doctors and nurses who faked death certificates and told parents their newborn had died at birth.
Parents now believe those children were trafficked, in some cases, by nuns that took the babies in and then sold them to other parents desperate to have children. Parents that have been visiting the empty graves of children they thought were dead are only now finding out the truth, as graves have been exhumed and DNA tests taken in the search for missing children.  Nearly 2000 claims have been filed with Spanish prosecutors since January 2012 and cases are still being discovered.
In 'Niños Robados, Stolen Children' CNN correspondent Atika Shubert meets Antonio Barroso who started 'Anadir', an organisation hoping to connect the 'lost babies' with their parents.  He himself was bought as a newborn from a nun and did not find out he was adopted until he was an adult. Now, Barroso is on a hunt to find his birth parents, and help others do the same.
CNN.com/untoldstories/
@AtikaCNN
CNN Business Traveller
Thursday 10 May at 0830 BST / 0930 CET
Friday 11 May at 0530 BST / 0630 CET
Saturday 12 May at 0730 BST / 0830 CET
Sunday 13 May at 0400 BST / 0500 CET
Saturday 09 June at 1330 BST / 1430 CET
Sunday 10 June at 0730 BST / 0830 CET
Monday 11 June at 0400 BST / 0500 CET
Duration: 30 minutes
Life today is fast-paced, and business travellers are both setting the pace, and trying to keep up. When life is spent on the move, 'road warriors' can't afford to waste a moment. This month, 'CNN Business Traveller' hits the roads of a nation renowned for its efficiency –Switzerland, home of militant timekeeping, Swiss Army Knives and the wrist watch.
Show host Richard Quest meets Francisco Fernandes, board member for Zurich Efficiency Club, who reflects on the Swiss legacy for efficiency and explains why it is key to success in any business.
From Zurich International airport, Quest tests a variety of gadgets designed to speed up a traveller's passage through the airport, and tools to ease the pain of the tedious expenses claim process. CNN's Diana Magnay also reports on a new solution to time-wasting in airports – 'Napcabs' – a 'pod' offering a hideaway to sleep, work or just get some privacy while in transit.

In the UK, 'CNN Business Traveller' is at the Four Seasons Hotel inLondon, where a '15 minute menu' is now offered to guarantee an efficient service is delivered when needed. Quest and co-host Ayesha Durgahee join the chefs to see if can meet the demand of today's busy kitchen.
And as British airports are in the process of phasing out all iris recognition scanners at immigration halls and replacing them with e-passport gates, Durgahee looks at the woes of waiting in line and what lessons can be learnt from other countries.
CNN.com/BusinessTraveller
@AyeshaCNN
@RichardQuest
 

MainSail
Thursday 10 May at 1030 BST / 1130 CET and 1730 BST / 1830 CET
Saturday 12 May at 0830 BST / 0930 CET and 2200 BST / 2300 CET
Sunday 13 May at 1730 BST / 1830 CET
Saturday 09 June at 1730 BST / 1830 CET
Sunday 10 June at 0830 BST / 0930 CET and 2200 BST / 2300 CET
This month, 'Mainsail' heads to Italy to assess whether a late entry in to the 34th America's Cup could be victorious with the trophy when the finals take place inSan Francisco in the summer of 2013.
Sailing team 'Luna Rossa' has a huge and passionate support in Italy, which extends far beyond the sailing world, following their three America's Cup campaigns. The team reached the finals in 2000 but they have never won the oldest trophy in international sport.
In April 2012 they started their challenge to try and win the Cup, racing on home waters off Naples. 'MainSail' host and double-Olympic-gold-medallist Shirley Robertson joins the team on the water and offers her opinion on whether this could beItaly's greatest ever chance to win or if they have left their entry too late.
And as the nine Americas' Cup crews were preparing to race in Italy, six teams competing in the Volvo Ocean Race were facing wild weather in the Southern Ocean. Robertson talks via satellite to the skippers in the race, deep in the Southern Ocean, as they compete in the wildest leg of this race so far.
cnn.com/SPORT/
@CNNShirley