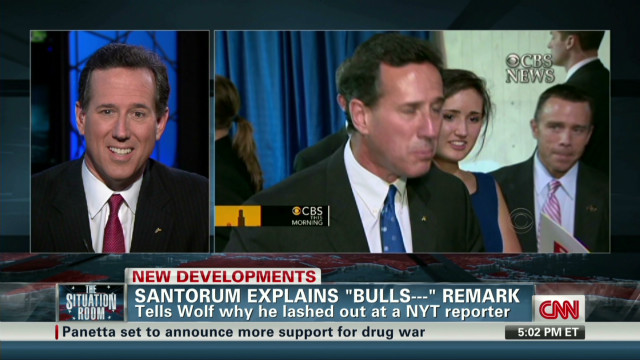 The Situation Room with Wolf Blitzer
March 26th, 2012
Santorum explains bulls*#* remark
Former Pennsylvania Sen. Rick Santorum sat down with CNN's Wolf Blitzer to discuss his campaign, the Supreme Court hearing on health care and much more. Highlights from the interview are after the jump; please visit http://archives.cnn.com/TRANSCRIPTS/2012.03.26.html for a full transcript.
Please credit all usage of the interview to CNN's The Situation Room with Wolf Blitzer
EMBEDDABLE VIDEO: Santorum: Romney running from health care
http://cnn.com/video/data/2.0/video/politics/2012/03/26/tsr-santorum-romney-healthcare.cnn.html

Highlights from Interview
THIS IS A RUSH FDCH TRANSCRIPT. THIS COPY MAY NOT BE IN ITS FINAL FORM AND MAY BE UPDATED
SANTORUM:  I understand.  But just understand.  They sent a Romney person to our speech, he fed the line to all the reporters.  We saw it happening.  And everybody in that — everybody in that room, even the reporters said, oh, yes, we understood what you meant.  But, you know, the Romney people said this to us, so we had to ask you about it.  That's what happened.
And so, you know, look, I understand the game.  But this is a — you talk about desperate and pathetic, Mitt Romney can't run on his record.  He can't run on the — here we — having the whole world watching what's going on here in Washington, these Supreme Court arguments, Mitt Romney's 3,000 miles away.
He should be here.  This is the — this is — this is an issue that Barack Obama is running — he's 7,000 miles away.  He doesn't want anything to do with ObamaCare.  It — they celebrated the anniversary last week, no comment, nothing.  And he's