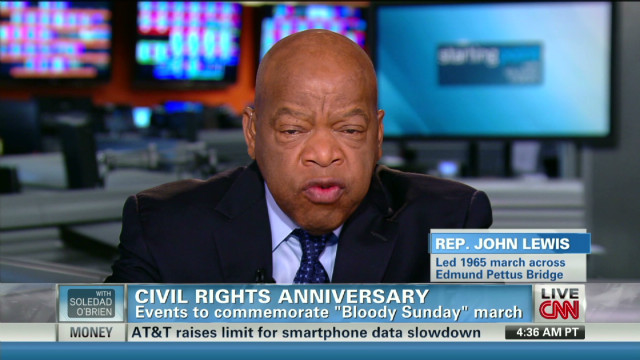 Starting Point
March 2nd, 2012
Rep. John Lewis on AL voter ID law: We must respect the dignity, worth of everyone
Kerry Kennedy and Rep. John Lewis (D-GA) discuss the "Bloody Sunday" anniversary and controversial voter ID legislation in Alabama.
Rep. Lewis says, "But in many parts of America today people are passing voter ID laws, making it difficult for many people to participate in a democratic process. The Vernon Center based in New York has reported that maybe more than 5 million people would be denied the right to participate in a democratic process. Because of these voter IDs, early voting, making it hard and difficult for young people, minority, seniors and others to vote on Election Day."
He adds, "I feel like we're still marching and it's necessary to march again. It is not right. It's not fair. It's unjust to treat the Latino population or any population the way people are being treated. In the state of Alabama and in so many other states in America, Hispanics, Latinos live in constant fear. These laws are bad. They are bad for our fellow human beings. I don't think there's any such thing as an illegal human being. We all are legal. People must be treated with a sense of dignity. We must respect the dignity and the worth of every human being."
Kennedy states, "Well, you know, this was legislation passed in order to get people to self deport. And it's really to harass and terrify people into leaving the state of Alabama and it's had terrible, terrible consequences. They are not only going to lose up to six percent of their GDP because of job loss. They're going to lose up to 140,000 jobs in Alabama. This is legislation that's opposed by the Homebuilders Association, by the Chamber of Commerce, and by human rights groups."
Starting Point with Soledad O'Brien airs week mornings from 7-9am ET on CNN.