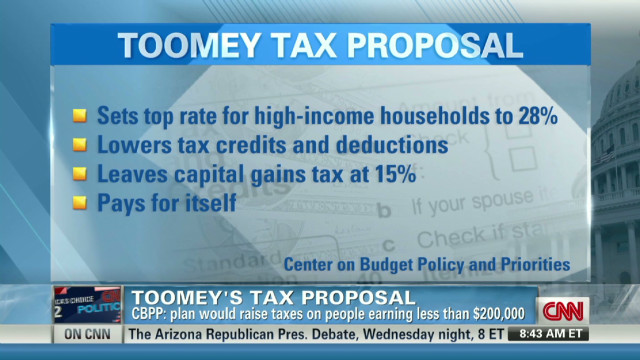 Starting Point
February 17th, 2012
Greenstein: Sen. Toomey (R-PA) plan raises taxes for those making less than $200K
On Tuesday's Starting Point, Rep. Pat Toomey (R-PA) told CNN anchor Soledad O'Brien that it is "factually wrong and ridiculous" to say that his budget would raise taxes for those making less than $200K. Today, Robert Greenstein with the Center on Budget and Policy Priorities refutes Sen. Pat Toomey's (R-PA) claim.
Greenstein says, "I think Senator Toomey is very sincere in not wanting to raise taxes for people below 200. I think he is, indeed, unaware that that is the effect that his plan would have and has to have. The math is very simple, Soledad. Under his plan by lowering the top rate to 28 percent for people at the top, it is a huge tax cut at the top. The Urban Institute Brookings Tax Policy Center estimates somewhere in the vicinity of $140 billion a year. If you leave the capital gains rate at 15 percent, all of the studies of plans like Senator Toomey's show that you can't raise — you don't raise enough money from limiting things like the mortgage interest deduction or the child credit on people at the top to make up for the big tax cut you're giving them by lowering the top rate to 28 percent."
He continues, "And the math is irrefutable here. If you bring in the same amount of revenue overall and you cut taxes for people over 200, then you have to raise them for people under 200. And again, Congress's official score keeper, the Joint Committee on Taxation, analyzed a plan similar to Toomey's and found it would cut taxes for people over 200, it would raise taxes for people under 200."
Starting Point with Soledad O'Brien airs week mornings from 7-9am ET on CNN.