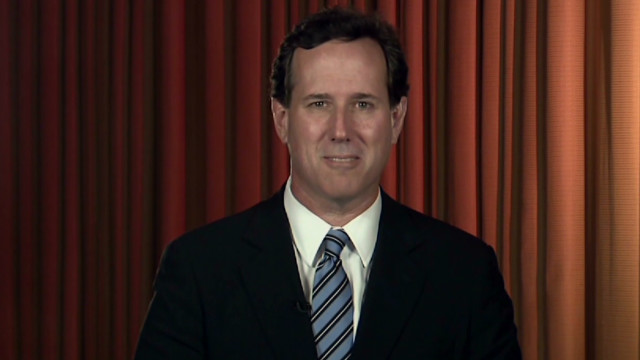 The Situation Room with Wolf Blitzer
January 27th, 2012
Santorum: there hasn't even been a discussion as to whether to get out of this race.
Former Pennsylvania Sen. Rick Santorum spoke with CNN's Wolf Blitzer about last night's CNN debate and Santorum's plans for the future of his campaign. Two highlights from the interview are after the jump.
Please credit all usage of the interview to CNN's The Situation Room with Wolf Blitzer
Highlight from Interview
THIS IS A RUSH FDCH TRANSCRIPT. THIS COPY MAY NOT BE IN ITS FINAL FORM AND MAY BE UPDATED
BLITZER:  Because you know a lot of the pundits here in Florida think you've basically given up on this state, because they don't see you advertising, either your campaign or your super PAC. Are you doing any paid advertising in Florida?
SANTORUM:  We're — we're not doing — I don't know if we're doing any — we may be — I know we're doing some things that, you know, I don't know if you'd call it paid advertising.  But, you know, calls and — and some mailing and things like that, to — to targeted groups.
Look, I — I've said it before, you know, we — we just, in many respects, from a financial point of view, just really have gotten our sea legs in the last few weeks.  And we're doing very, very well.  But we're not at the point — we're raising a lot of money right now, more than — multiples more than we've raised before.
We've actually raised over two times as much money in the last three-and-a-half weeks than we did in the first nine months of the campaign.
So we're doing great and — and we — but we're in this for the long haul.  We just weren't going to go out and spend every dime in a huge state like Florida when we've got other states that — that — that, you know, we feel we can do well in.  And we've got a great grassroots organization here in — in Florida.  We've got a lot of excited people working hard.  And you know what's been moving the numbers more than the TV advertisements are, you know, are candidates' ideas and the debates.  We think the debate will move a lot of folks.
We've had a — I'll tell you, it brought a ton of positive feedback and folks coming our way and our — our phones ringing off the hook.  Our Web site is buzzing like crazy all from Florida.
So we feel very good.  We're going to surprise some people come Tuesday.
….
BLITZER:  And so you're staying in this race. So you have no plans to drop out, right?
SANTORUM:  Yes, if I can just, you know, say it as out — you know, I'm not someone who does a lot of absolute statements.  But I will make an absolute statement.  I've — there hasn't even been a discussion — and not even a — even approaching a discussion to discuss a discussion as to whether to get out of this race.  We're in this race.  We're — we're hiring people for — for states for March and April.
I really believe that we're going to — our campaign is going to be — going to be alive and well for — for a long, long time.  I believe we're going to win this.  I have no doubt in my mind that when the Republicans take a look at who is the viable, the best conservative to run against Barack Obama, that it's going to end up being me.  And we're going to have to fight through that for the next — the next few weeks.
But I think what you saw last night and what you're going to see here in Florida and what you're going to see in the weeks ahead, is you're going to see this race change again.  And it's going to be an opportunity for us to be able to rise and be the — be the conservative that — that folks have been looking for in this race.