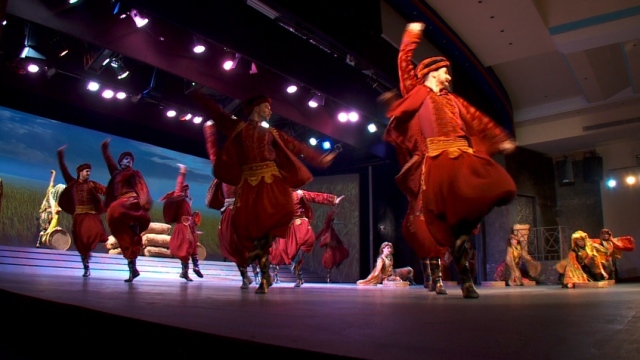 CNN Preview
January 26th, 2012
PREVIEW: CNN International Programme Information Weeks 5 – 6
 
Wednesday 01 February at 1030 GMT / 1130 CET and 1730 GMT / 1830 CET
Saturday 04 February at 0530 GMT / 0630 CET and 1930 GMT / 2030 CET
Sunday 05 February at 1230 GMT / 1330 CET
Saturday 14 February 1230 GMT / 1330 CET
Sunday 15 February 0530 GMT / 0630 CET and 1930 GMT / 2030 CET
Duration: 30 minutes
In February, 'Inside the Middle East'  explores the struggle to preserve traditional Arab culture in a rapidly changing, modern world. Host Rima Maktabi looks at the stories of four people from the region who are leading the fight to protect, promote, and adapt their heritage.

Maktabi journeys deep into the heart of Baqa'a, Jordan's largest Palestinian refugee camp, where she meets the women striving to save the age-old art of hand-made Palestinian embroidery. Helping them on their quest is Dubai-based fashion designer, Zeina Abou Chaaban, who markets their 'Palestyle' clothing in the upscale malls of the UAE.  
The programme also meets Amin Maalouf (pictured), a renowned Lebanese-born French author whose romantic tales of Arab mythology have enlightened readers across the globe for decades. In a rare interview, he tells how being inspired "by everything" allows him to bridge his two cultures and identities.  

CNN travels to Burj Hammoud, Lebanon, and takes a tour with filmmaker, Nigol Bezijian. Born in Syria, raised in Lebanon, and educated in the United States, Bezijian explains why he comes here to get his "cultural fix" and reconnect with his roots.

The final story is that of Abdel Halim Caracalla, who opened a fledgling dance school and theatre in Lebanon that presents internationally-acclaimed performances and promotes the art of Arabesque in the Arab world (pictured above).  But, as the show discovers, in some conservative circles, not everyone is a fan.  
@rimamaktabi
insidethemiddleeast.blogs.cnn.com/
facebook.com/CNNIME

Thursday 02 February at 1030 GMT / 1130 CET and 1730 GMT / 1830 CET
Saturday 04 February at 0830 GMT / 0930 CET and 2200 GMT / 2300 CET
Sunday 05 February at 1730 GMT / 1830 CET
Saturday 11 February at 1730 GMT / 1830 CET
Sunday 12 February at 0830 GMT / 0930 CET and 2200 GMT / 2300 CET
Duration: 30 Minutes
This month's 'Living Golf' comes from the Abu Dhabi Golf Championship, where host Shane O'Donoghue speaks to some of the stars of this year's tournament, including Rory McIlroy (pictured), Graeme McDowell and Tiger Woods.
With the world's top four – Tiger and three of the current Major Champions – in town, has the UAE's capital taken over as golfing capital of theMiddle East?
In addition, the show presents the 'clinic' with world number 2, Lee Westwood; goes behind the scenes with one of the best golf photographers in the world, and follows two young pros trying to make their mark on tour.
cnn.com/livinggolf
@shaneodonoghue
 
Thursday 09 February at 1030 GMT / 1130 CET and 1730 GMT / 1830 CET
Saturday 11 February at 0830 GMT / 0930 CET, 2200 GMT / 2300 CET
Sunday 15 February at 1730 GMT / 1830 CET
Duration: 30 minutes
In February, 'MainSail' is in Abu Dhabi for the Volvo Ocean Race (pictured) stopover, an event in which nations from all over the world invest time, money and people in the sport of sailing.
This winter marks the first time this classic round-the-world boat race will make a Middle-Eastern stopover in its thirty-eight year history. But theMiddle Eastis not only investing in the professional side of the sport. Government-backed initiatives are also providing learning opportunities for local people, offering the chance of employment and the prospect of training and coaching for those who show promise.
Host Shirley Robertson is in the region and on board with professional sailors and team managers to find out why the Volvo Ocean Race has come to theMiddle East. She also spends time on the inside of a unique training camp for local people to find out why the region has developed such an interest in sailing.
@CNNShirley
cnn.com/CNNI/Programs/main.sail/