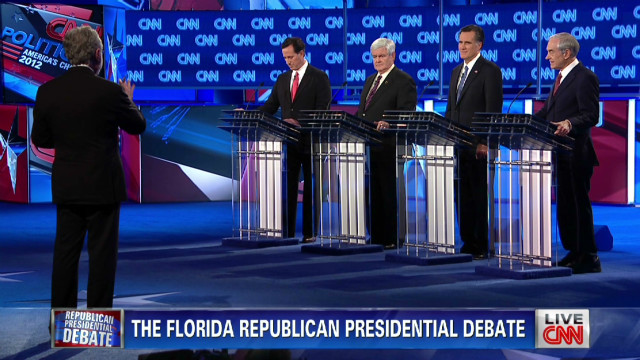 Video
January 26th, 2012
Gingrich criticizes wealth question, Wolf fires back
Newt Gingrich criticizes Wolf Blitzer's question about wealth, and Wolf responds back during the CNN GOP debate in Jacksonville, Florida. Visit http://archives.cnn.com/TRANSCRIPTS/2012.01.26.html for a full transcript of the debate.
Highlight from Full Debate
THIS IS A RUSH FDCH TRANSCRIPT. THIS COPY MAY NOT BE IN ITS FINAL FORM AND MAY BE UPDATED.
BLITZER:  We're continuing the debate here in Jacksonville, Florida.
Let's get to the issue of transparency, because voters out there, they want to know as much about you four gentlemen as possible before they vote.
Tax returns — let me bring this to Speaker Gingrich.
Earlier this week, you said Governor Romney, after he released his taxes, you said that you were satisfied with the level of transparency of his personal finances when it comes to this.  And I just want to reiterate and ask you, are you satisfied right now with the level of transparency as far as his personal finances?
GINGRICH:  Wolf, you and I have a great relationship, it goes back a long way.  I'm with him.  This is a nonsense question.
(APPLAUSE)
GINGRICH:  Look, how about if the four of us agree for the rest of the evening, we'll actually talk about issues that relate to governing America?
BLITZER:  But, Mr. Speaker, you made an issue of this, this week, when you said that, "He lives in a world of Swiss bank and Cayman Island bank accounts."  I didn't say that.  You did.
GINGRICH:  I did.  And I'm perfectly happy to say that on an interview on some TV show.  But this is a national debate, where you have a chance to get the four of us to talk about a whole range of issues.
BLITZER:  But if you make a serious accusation against Governor Romney like that, you need to explain that.
###