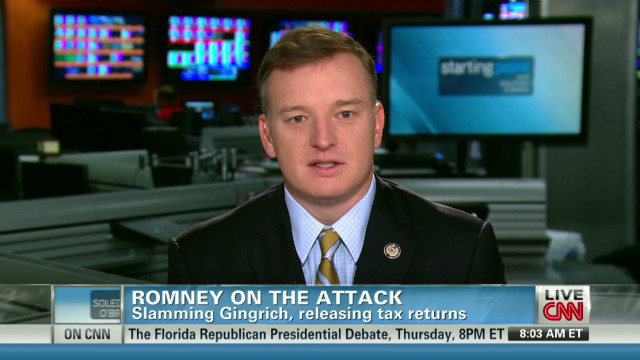 Starting Point
January 23rd, 2012
Romney Florida co-chair: 'Gloves are going to come off;' says Gingrich dictated Romney's campaign
Rep. Tom Rooney (R-FL), honorary co-chair of Mitt Romney's Florida campaign team, explains Romney's strategy in the state on CNN's Starting Point with Soledad O'Brien.
Rooney tells O'Brien, "Well, you know, this is full contact sport at this point. The gloves are going to come off. We're not going to leave anything in the locker room in Florida. Florida is too important to not make sure that your campaign is running on all cylinders or to get tripped up by something like releasing your tax forms."
He continues, "You don't want your opponent to sort of dictate what you're doing. And I think that that's what happened. But I assure you that the Romney campaign will not be doing that anymore."
Starting Point with Soledad O'Brien airs week mornings at 7-9a ET.