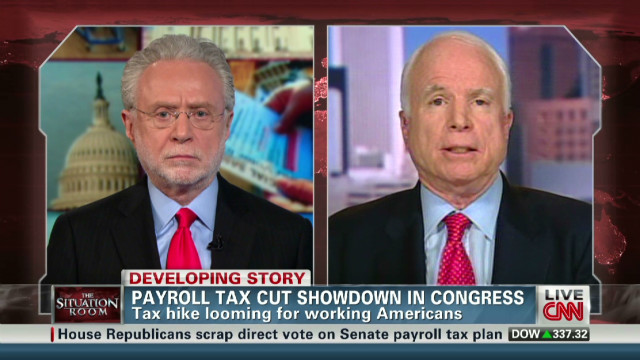 The Situation Room with Wolf Blitzer
December 20th, 2011
Sen. McCain on the payroll tax cut, "It is harming the Republican party."
In an interview today on CNN's The Situation Room with Wolf Blitzer, Sen. John McCain (R-AZ) spoke with Wolf Blitzer about the death of North Korea's leader, the current state of the payroll tax cut negotiations and more. A full transcript of the interview will be posted on CNN.com. A highlight is after the jump.
Please credit all usage of the interview to CNN's The Situation Room with Wolf Blitzer
Highlight from Full Interview
THIS IS A RUSH FDCH TRANSCRIPT. THIS COPY MAY NOT BE IN ITS FINAL FORM AND MAY BE UPDATED
BLITZER:  Very quickly on another subject, the payroll tax cut and extension. You were among the 89 senators who voted to continue if for another two months. Your Republican colleagues in the House, the speaker, the majority leader say they're not going to go along with that.  Why are they wrong and you and your Republican colleagues in the Senate right?
MCCAIN:  I think we have to recognize reality.  And that is we are not going to see the payroll tax cut expire on the first of January.  And we have to accommodate to that reality.  It would not be fair to the American people at this time.
And so it seems to me that Republican leaders and Harry Reid and the Speaker and Congresswoman Pelosi should sit down together with the administration and figure out a way through this.  It is harming the Republican party.  It is harming the view, if it's possible, any more of the American people about congress.  And we've got to get this thing resolved.  And with the realization that the payroll tax cut must remain in effect.
###