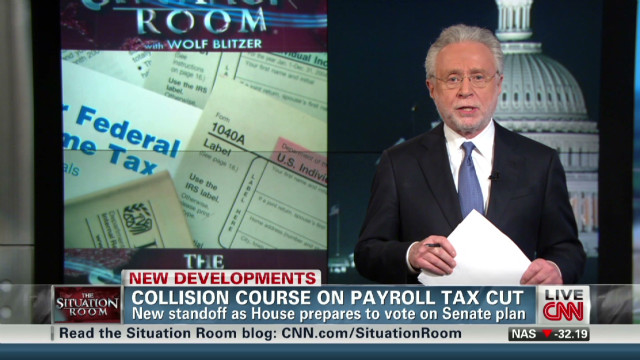 The Situation Room with Wolf Blitzer
December 19th, 2011
Cantor: We can do better than two months
House Majority Leader Eric Cantor spoke with CNN's Wolf Blitzer today about the current state of the payroll tax cut negotiations. This interview aired in the 5 p.m. ET hour of The Situation Room with Wolf Blitzer. A highlight from the interview is after the jump.
Please credit all usage of the interview to CNN's The Situation Room with Wolf Blitzer

Highlight from Full Interview:
THIS IS A RUSH FDCH TRANSCRIPT. THIS COPY MAY NOT BE IN ITS FINAL FORM AND MAY BE UPDATED.
BLITZER:  Here is what the Senate majority leader, Harry Reid, said, and I'll put it up on the screen.  He said, "When we met last week, Speaker Boehner requested that Senator McConnell" — he's the Republican leader in the Senate — "and I work out a compromise.  Neither side got everything they wanted, but we forged a middle ground that passed the Senate by an overwhelming bipartisan majority."
Here is the question.  Isn't two months better than nothing?
CANTOR:  Well, we can do better than two months.  I don't think there's anybody who said that a two-month tax policy or health care policy is the way we ought to go.  And we can do this.
I mean, when negotiations broke off, Wolf, you know, we were close.  And I think that we can do this.
And the working people of this country deserve more.  And they deserve better.  They deserve to be going into Christmas, in the new year, knowing full well that their taxes are not going to go up and them the entire year.  That's what the president has asked for, and that's what we in the Congress and the House are committed to doing, is to working together to reach the compromise that will guarantee that people are not going to see their taxes go up for the full year.
###