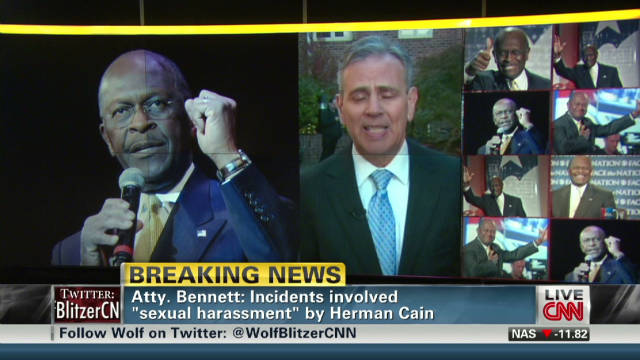 The Situation Room with Wolf Blitzer
November 4th, 2011
Atty. of Cain accuser talks with Wolf Blitzer
Joel Bennett, the attorney for one of Herman Cain's accusers, tells CNN's Wolf Blitzer that his client wants to put the past behind her. A full transcript will be posted on CNN.com.  This interview aired today on CNN's The Situation Room with Wolf Blitzer during the 4 p.m. ET hour.
Please credit all usage of the interview to CNN's The Situation Room with Wolf Blitzer
Highlight from Full Interview
THIS IS A RUSH FDCH TRANSCRIPT. THIS COPY MAY NOT BE IN ITS FINAL FORM AND MAY BE UPDATED
WOLF BLITZER, HOST, CNN'S "THE SITUATION ROOM": When they say in the statement, the National Restaurant Association, that at the time Mr. Herman Cain — I'm reading from their statement — disputed the allegations in the complaint. He flatly says that whatever she was alleging was not true. I want you to respond to that.
JOEL BENNETT, CAIN ACCUSER'S ATTORNEY: In almost 40 years of being a lawyer, I cannot recall anyone who has been accused of sexual harassment who said I did it.
BLITZER: So you're just saying what?
BENNETT: They always deny it. Very simple.
BLITZER: But there was no formal investigation, shall we say. He says he recused himself. This agreement was worked out between the National Restaurant Association, the general council, I assume, and you representing her at the time, right?
BENNETT: And their outside counsel at the time.
BLITZER: They had an outside counsel, a private lawyer whom they retained.
BENNETT: Correct. Correct.
BLITZER: So where does this go from here from your perspective?
BENNETT: My client hopes it's over from her perspective. There are other complainants out there and what they choose to do is their business.
###