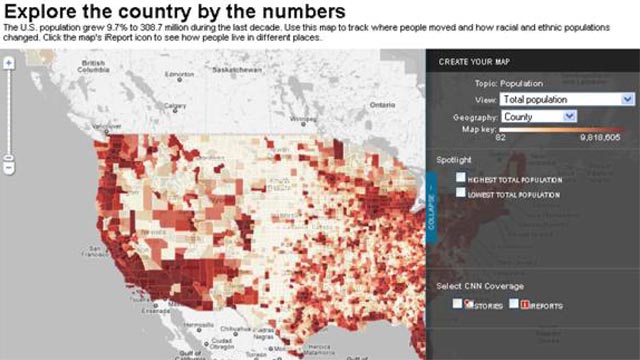 Enterprise
August 25th, 2011
CNN's 'Defining America' takes a Personal Look at Census Data
CNN.com Interactive Map, Enterprise Reporting and iReporters Tell Story of America
 CNN.com has unveiled a new data visualization as part of its ongoing 'Defining America' coverage to take a unique look at the 2010 Census data and make it personal and relatable to people's lives.  The interactive map allows a user to explore the country using raw Census data as well as delve more deeply into CNN's coverage of the towns and people who make upAmerica.
"There are so many unique stories within the Census data, from a town that is the population center of America to the state of the 'California dream'," said Meredith Artley, managing editor of CNN Digital. "Our journalists and iReporters are digging into the data and beyond to tell and share those stories of who we are as a nation."
The map allows a user to break down the data at the state, county and census tract level, and view categories such as population density, population changes, race and ethnicity. Users can also identify where CNN.comhas reported on the Census to further contextualize the data as well as locations where iReporters have submitted content.
CNN iReport, the network's global participatory news community, has been tapping into the community to help 'Define America' with the iReport cultural census project. Through a set of five assignments, iReporters were asked to upload photos of their self-portraits, their family eating dinner, or snapshots of their handwriting, in addition to videos or sound recordings of themselves reading aloud or showing how they get around town.  All of the finished data will be included in the Defining America map and will be analyzed for interesting cultural trends in a series of articles on CNN.com.
Users currently can find stories at various locations on the map such as the booming population of a town in North Carolina, Houston's strong New Orleans influence due to the influx of Katrina evacuees and the growing diversity among youth in the United States.  The map will continue to evolve with more census information and other data throughout the year.
Mobile users will also be able to access Defining America coverage through the browsers on their phones and can search by zip code for Census data from their city or state.  Users can also share the data visualization through email, Facebook and Twitter.
CNN Worldwide, a division of Turner Broadcasting System, Inc., a Time Warner Company, is the most trusted source for news and information. Its reach extends to nine cable and satellite television networks; one private place-based network; two radio networks; wireless devices around the world; CNN Digital Network, the No. 1 network of news websites in the United States; CNN Newsource, the world's most extensively syndicated news service; and strategic international partnerships within both television and the digital media.
###
For more information, visit www.CNNPressroom.com and follow @CNNpr on Twitter.