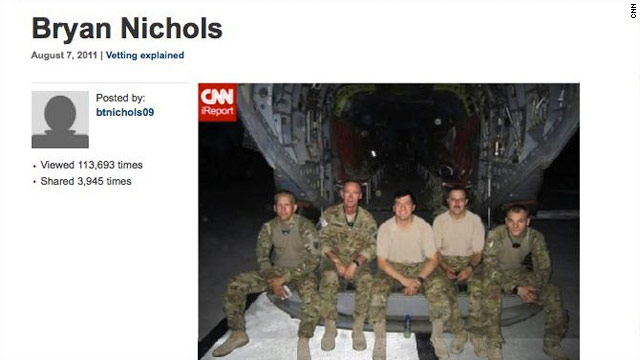 iReport
August 10th, 2011
iReport from soldier's son goes viral
On Sunday, the 10-year-old son of one of the 30 U.S. soldiers killed in Afghanistan posted to CNN's iReport in a submission that speaks for itself:
"iReport — My father was one of the 30 US Soldiers killed in Afghanistan yesterday with the Seals rescue mission. My father was the pilot of the chinook. I have seen other pictures of victims from this deadly mission and wish you would include a picture of my father. He is the farthest to the left.
Sincerely,
Braydon Nichols, 10 yrs old
Kansas City, MO"
Soon after, the iReport had become viral with news outlets across the country reporting on it, including CNN (story here). More than 10,000 people on Facebook re-posted it and many more tweeted and posted comments expressing their sympathies.
This story underscores the power of iReport to shine a light on the death of a hero and hopefully, from the outpouring of support, help the Nichols family a little bit.