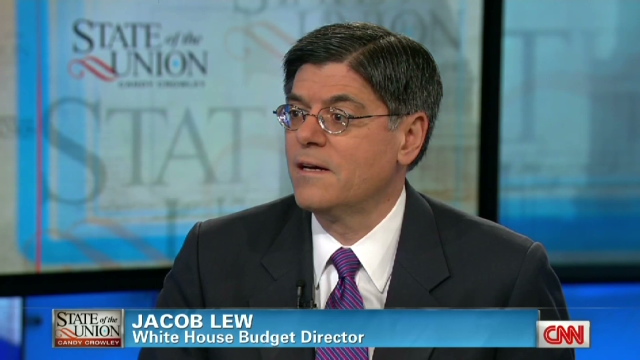 State of the Union with Candy Crowley
July 17th, 2011
OMB Director: I am confident that the responsible leaders of Congress know that that is not an option
On CNN's State of the Union with Candy Crowley, Candy spoke with White House Budget Director Jacob Lew about debt negotiations. Lew told Crowley that it's progress that both sides agree that the debt ceiling must be raised. A highlighted excerpt of this interview is after the jump, and a full transcript will be posted on CNN.com.
CNN Political Ticker:  Meeting U.S. debt obligations is the only plan, Lew says
MANDATORY CREDIT: CNN's "State of the Union" 
Highlighted Excerpt
THIS IS A RUSH FDCH TRANSCRIPT. THIS COPY MAY NOT BE IN ITS FINAL FORM AND MAY BE UPDATED.
CROWLEY: Again, conversations aren't exactly progress. So where do you think you have made progress?
LEW: You know, I think it's not insignificant that all the leaders understand that it would be irresponsible to get to August 2nd and not extend the ability of the United States to pay its obligations.
CROWLEY: Do enough members of Congress understand that?
LEW: I think that as we approach it, more and more seem to be coming to it. There will be a fringe that believes that playing with Armageddon is a good idea, but I don't think that's where the majority will be.
CROWLEY: Any White House meetings today with any of the principals?
LEW: You know, I have not been to the office yet this morning. I think I will find out when I get there.
CROWLEY: When you get there, OK. So you seem fairly confident that at the very least there will not be default on the 2nd?
LEW: I have confidence that ultimately the responsible leadership in Washington will not fail to take an action where failure would mean interest rates that would amount to a tax on all Americans when they buy a home or a car, it would undermine our recovery, that would create chaos in the U.S. and world economy. I am confident that the responsible leaders of Congress know that that is not an option.
###