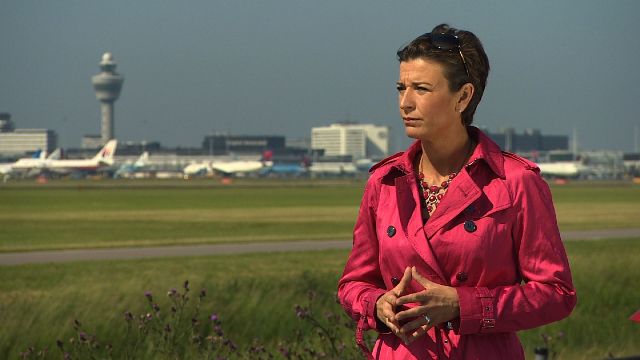 CNN Preview
June 24th, 2011
CNN International Programme Information Preview Weeks 31 & 32
CNN International programming details for Weeks 31 and 32 including: The Gateway, Future Cities, Living Golf, Open Court and Piers Morgan Tonight.
Thursday 11th August at 0830 BST; Friday 12th August at 0430 BST; Saturday 13th August at 0630, 1030 and 1830 BST; Sunday 14th August at 0730, 1600 BST; Monday 15th August at 0330 BST.
Duration: 15 minutes
Continuing on CNN, new series The Gateway delves beneath the public face of the world's busiest transport hubs, documenting the day to day logistics of each location, the people who work there and the business of imports and exports, between and beyond borders.  This month, the series travels to Schiphol Airport, the gateway to the Netherlands and transport hub that handles up to 110 aircraft per hour making it one of the highest concentrations in Europe and one of the world's busiest airports. Host Becky Anderson (pictured) meets air traffic controllers, visits the world's biggest flower market just a few miles from Schiphol and looks at what it takes to ensure that passengers and goods travelling through the airport do so seamlessly and efficiently.  With unprecedented access to the people and places that make the airport tick, this month's Gateway offers viewers a unique look at life at Schiphol.
Thursday 11th August at 0845 BST; Friday 12th August  at 0445 BST; Saturday 13th August at 0645, 1045 and 1845 BST; Sunday 14th August at 0745 and 1615 BST; Monday 16th August at 0345 BST
Duration: 15 minutes
This August, Future Cities heads toValencia.
From a grimy industrial town, Spain's third biggest city has grown in popularity like no other European destination and has morphed into a cutting-edge holiday spot and business hub.  The programme explores how the city has successfully strategised a name for itself by attracting major sporting events, including Formula One's European Grand Prix. The street circuit yearly comes at a high price however. Richard Quest (pictured) goes on a flying lap of the circuit and explores whether Valencia can afford to maintain its status as an F1 venue.
Future Cities also looks at the city's brand new high-speed rail connection betweenValencia and Madrid that has slashed travel time between the capital and the coast from 4 hours to just 90 minutes. The fastest connection to the seafront has made it become an increasingly popular service effectively making it Madrid's beach.
Thursday 4th August at 1030 and 1830 BST; Saturday 6th August at 0730, 1600 and 2330 BST; Sunday 7th August at 0430, 0830 and 1930 BST
Duration: 30 minutes
Following their successful bid to host the 2018 Ryder Cup, this month Living Golf is in France to find out how the French golf federation will be using the event to revolutionise the game in a country that has struggled to produce top flight talent.  
The programme assesses plans for the future of the Ryder Cup legacy and delves into a French golf story of the past – Arnaud Massy, France's first and only Major winner, retelling his remarkable story from Biarritzand investigating why his success has not translated to future generations of the game. Presenter Shane O'Donoghue plays on a new mini urban golf course in Paris – part of the Ryder Cup legacy plan to bring golf to the population, as he participates in a foursome competition on the 18th hole of Le Golf  National with the only two French players ever to make it into the European side, Thomas Levet and Jean Van de Velde. Living Golf also visits the academy of the French National team, speaking to the 2010 amateur world champion Alexander Levy finding out how the Federation is creating a breeding ground for the French stars of tomorrow.
cnn.com/livinggolf
@shaneodonoghue
Thursday 11th August at 1030 and 1830 BST; Saturday 13th August at 0730, 1600 and 2330 BST; Sunday 14th August at 0430, 0830 and 1930 BST
Duration: 30 minutes
Open Court in August previews the third Grand Slam of the year, the US Open.
Host Pat Cash (pictured) reports from the original 1881 site of the US Open – the now legendary grass courts at the International Tennis Hall of Fame & Museum inNewport,Rhode Island. He speaks to former World Number One, Andre Agassi, gets a lesson from legendary coach Nick Bollettieri asking him he would need to adapt his game to play today, plus he plays an exhibition match on some of the oldest wooden courts in the world in Adirondack Forest in New York State.
cnn.com/opencourt
@cnnopencourt
facebook.com/cnnopencourt
Nightly at 2000 BST
Full air times: 0200 (SIMULCAST WITH CNN US), 1200 and 2000 BST
Duration: 1 hour
Piers Morgan's nightly interview show has recently seen guests such as Jada Pinkett Smith, Ryan O'Neal, Tatum O'Neal, Barry Manilow, Paris Hilton and Christiane Amanpour.  The in-depth, personality-driven interview programme continues nightly subjected to Piers' inimitable style uncovering the most fascinating details about his newsmaker guests. He continues unearthing hidden stories throughout August which surprise, challenge and delight an audience in more than 200 countries and territories worldwide.
cnn.com/piers
@pierstonight
facebook.com/PiersTonight