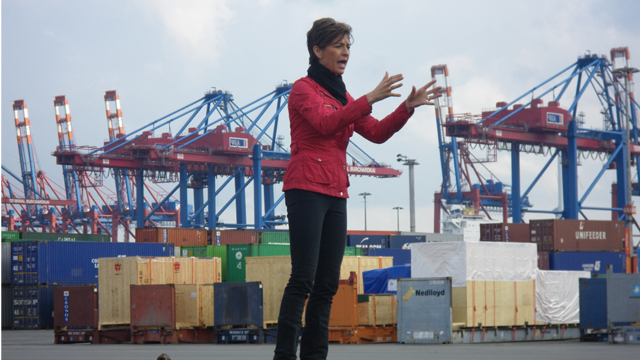 CNN
May 26th, 2011
CNN International Programme Information Weeks 25 & 26


Thursday 14th July at 0830 and 1630 BST; Saturday 16th July at 0630, 1030 and 1830 BST; Sunday 17th July at 0730, 1600 BST; Monday 18th July at 0330 BST.
*Please note 'The Gateway' programme segment begins Tuesday 14 June, with the second instalment on Thursday 16 June from 2100 BST within 'Connect the World'.  It subsequently airs each Tuesday within 'Connect the World' from 2100 BST. 'The Gateway' also airs within CNN's Asia prime time airing of 'World Business Today'.

Duration: 15 minutes
Brand new to CNN, 'The Gateway' delves beneath the public face of the world's busiest transport hubs, documenting the day to day logistics of each gateway, the people who work there and the business of imports and exports, between and beyond borders. The programme launches with a visit to the Port of Hamburg in Germany, the third largest container port in Europe. Show host Becky Anderson (pictured above) reports on the docking of the world's largest ocean liner, the QM2, for the most spectacular harbour festival celebrating the port's 822nd birthday. The episode will look at the rise of Hamburg's cruise terminal, the job of the harbour pilot and how shipping containers make their way from sea to land and across Europe. 'The Gateway' also travels to Maschen Marshalling Yard, Europe's largest and most modern train formation depot. Continue to look out for further 'Gateway' destinations on CNN, as the series champions geographical hotspots, vital to the global economy and ultimately, our individual lives.
Full air times: Daily at 0200 (LIVE SIMULCAST WITH CNN US), 1200 and 2000 BST.
Duration: 1 hour
Recent international names interviewed on 'Piers Morgan Tonight' have included Sir David Frost, Benjamin Netanyahu, Sharon and Kelly Osbourne, Gordon Brown and Pervez Musharraf. The in-depth, personality-driven interview programme continues nightly throughout July as Piers' inimitable style uncovers the most fascinating details about his newsmaker guests, unearthing hidden stories which surprise, challenge and delight an audience in more than 200 countries and territories worldwide.
cnn.com/piers
@pierstonight
facebook.com/PiersTonight
Thursday 7th July at 1230 and 1830 BST; Saturday 9th July at 0730, 1600
and 2330 BST; Sunday 10th July at 0430, 0830 and 1930 BST.
Duration: 30 minutes
'Living Golf' in July previews the British Open, the oldest Major in the world. This year it's hosted by the only Open course in the South of England – Royal St. George's. 'Living Golf' takes a look at the history behind the course, and what it takes to win there. Last year's Open winner, South Africa's Louis Oosthuizen, explains how he got his mind in shape to take on and beat the world's best golfers. The man who helped him do just that, Dr Karl Morris, demonstrates his techniques on show host Shane O'Donoghue (pictured). How important is a top player's caddy when it comes to winning at the highest level? Shane tries caddying for British golfer Luke Donald to find out.
Wednesday 13th July at 0830 and 1630 BST; Saturday 16th July at 0830, 1330 and 1730BST; Sunday 17th July at 0630 and 1830 BST
Duration: 15 minutes
In July, 'CNNGo' takes viewers on a high-energy, spirited tour of the city that never sleeps – New York. From striking skyscrapers to a thriving music scene, the show invites New Yorkers to show you some of the Big Apple's hidden gems.
Thursday 14th July at 1130 and 1830 BST; Saturday 16th July at 0730, 1800 and 2330 BST; Sunday 17th July at 0430, 0830 and 1930 BST.
Duration: 30 minutes
In July, 'Open Court' is hosted from the Ski-Star Swedish Open in Båstad, referred to as the Mecca of Swedish tennis. Host Pat Cash (pictured) interviews Björn Borg, arguably the most influential player in history about his upbringing, early inspirations and domination in the 1970s. 'Open Court' speaks to the top Swedish coach who discovered him back in 1966, Percy Rosberg. The programme hears from two former world number 1 players, Mats Wilander and Stefan Edberg. Borg's fiercest playing rival, John McEnroe, also speaks to the programme. Also this month, legendary tennis journalist Björn Hellberg guides viewers through the origins of Swedish tennis at the Bastad tennis museum. And 'Open Court' joins world number 5 tennis player, Robin Soderling, behind the scenes at Sweden's Davis Cup tie against Serbia in Halmstad.
cnn.com/opencourt
@cnnopencourt
facebook.com/cnnopencourt
Thursday 14 July at 0830 and 1630 BST; Saturday 16 July at 0630, 1030 and 1830 BST; Sunday 17 July at 0730, 1600 BST; Monday 18 July at 0330 BST
Duration: 15 minutes 
On "Future Cities" this month, Richard Quest (pictured) ventures on two wheels for a whistle-stop tour of Copenhagen's sustainable efforts, from roller coasters powered by wind to the city's cycle- friendly streets and carbon-neutral hotels. Copenhagen is already topping the global charts for liveability and sustainability, and phase two seems to be underway. They're so good at making the city liveable that 'Copenhagenisation' has become a celebrated style of urban planning. Now the city is working towards becoming the world's first carbon neutral capital by 2025, a goal demanding a new, fully comprehensive approach to sustainable solutions. HRH Crown Prince Frederik invites Richard into his home, for an inside glimpse at his own efforts to modernise the palace, filling it with modern and sustainable furnishings.