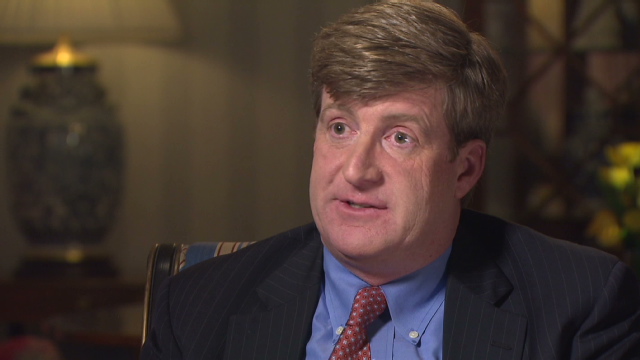 Sanjay Gupta MD
May 12th, 2011
'Patrick Kennedy – Coming Clean' Brings Mental Health Out of Shadows
'Dr. Sanjay Gupta Reports' documentary debuts Sunday, May 22, 7:00pm ET
In a CNN exclusive, chief medical correspondent Dr. Sanjay Gupta speaks with former U.S. Rep. Patrick Kennedy (D-RI) about his decision to leave Congress, his struggles with addiction and mental illness, growing up Kennedy, his father's legacy, and his new philanthropic mission.  These themes form the core of Dr. Sanjay Gupta Reports: Patrick Kennedy – Coming Clean, a new documentary that premieres Sunday, May 22 at 7:00p.m. ET. 
Gupta, also a practicing neurosurgeon, talks extensively to Kennedy about his ambitious goal to fund research that leads to cures for a breadth of brain pathologies – including Alzheimer's disease, chemical dependencies, mental illness, and cancers.  Kennedy's new mission is to fund a "moon shot" medical research effort – similar in its extraordinary ambition and aspiration to the successful race to space his uncle, President John F. Kennedy, inspired more than a generation ago. 
During the deeply personal and wide-ranging discussion, Kennedy speaks candidly about the stigma he felt growing up with depression as a member of his famously-accomplished family.  In addition, his more than 25 years of substance abuse have meant he's spent time in rehabilitation over a half dozen times. 
"I felt like a loser…I felt like…'I'm not living up.  What a shame.' You know, 'I'm a shame on my family by needing – treatment, for getting mental health treatment,"  says Kennedy to Gupta in the documentary.
Kennedy definitively considers addiction a mental health disease.  To Gupta, who asks directly if addiction is a moral failure or a disease, he responds: "It's a disease of the brain…this is totally a neurological disorder."
In 2009, shortly after the death of his father, the late Sen. Ted Kennedy (D-MA), Patrick Kennedy admits his renewed depression, also renewed his life-long struggle with substance dependency, and ultimately culminated in his decision not to seek re-election to the U.S. House of Representatives after eight terms in office. 
"That's why I chose not to run for reelection because frankly, living in the public eye and in political life was not conducive to really getting that kind of long-term steady recovery," says Kennedy.
As he works to maintain his recovery, he thinks about his father "almost every day" and hopes to apply lessons from his and his father's legislative experience to his new mission. 
Online, CNN.com will feature an opinion editorial by the former Congressman on mental health, along with video excerpts from the documentary.  In addition, CNN.com users will find a story about Kennedy's reflections on Jared Loughner, a man with mental illness accused of the mass shooting in Tucson, Ariz.of 20 people, including  Kennedy's friend and former colleague, Rep. Gabrielle Giffords (D-AZ).  Visitors to CNN.com will also find more information about www.moonshot.org.    
Caleb Hellerman and Danielle Dellorto are senior producers for Coming Clean.  Roni Selig is the senior executive producer for the CNN Medical, Health, and Wellness unit. 
 CNN Worldwide, a division of Turner Broadcasting System, Inc., a Time Warner Company, is the most trusted source for news and information. Its reach extends to nine cable and satellite television networks; one private place-based network; two radio networks; wireless devices around the world; CNN Digital Network, the No. 1 network of news Web sites in the United States; CNN Newsource, the world's most extensively-syndicated news service; and strategic international partnerships within both television and the digital media.
-30-
CONTACT:
Jennifer Dargan                                                    Atlanta                                               jennifer.dargan@turner.com