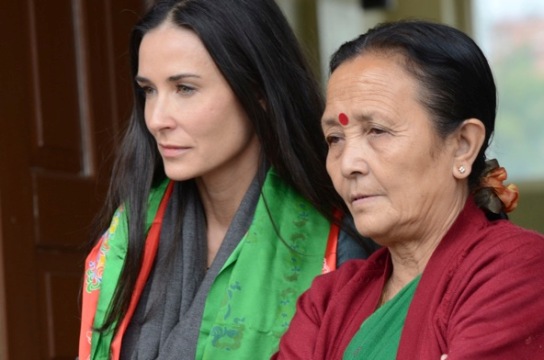 CNN Preview
April 28th, 2011
CNN International Programme Information Weeks 21 & 22
CNN International programming details for weeks 21 and 22 including: The Freedom Project, Piers Morgan Tonight, Living Golf, FutureCities and Open Court. 
Satuday 11th June at 1400 and 2100 BST; Sunday 12th June at 1000 BST
Duration: 60 minutes
In June, The CNN Freedom Project shines a light on the shocking trade of human life inNepal.
Actress and anti-sex trafficking activist Demi Moore anchors the documentary and joins 2010 CNN Hero of the Year Anuradha Koirala to focus on her organization, Maiti Nepal, which has rescued more than 12,000 stolen Nepalese children from sex trafficking since 1993. Nepal's Stolen Children followsMoore as she spends time in the Maiti Nepal shelter, hearing emotional first-hand accounts from dozens of girls who have been trafficked. She travels to Bhairahawa, a hotbed of human trafficking where girls fromNepal are smuggled intoIndia to work in the sex trade and also meetsNepal's Prime Minister Jhalanath Khanal, to discuss the business of sex trafficking in his country.
Daily at 2000 BST
Full air times: 0200 (LIVE SIMULCAST WITH CNN US), 1200 and 2000 BST
Duration: 1 hour
Recent international names interviewed on Piers Morgan Tonight have included Demi Moore and Ashton Kutcher, Matthew Fox, Sir David Frost, Jane Seymour, Sharon and Kelly Osbourne. The in-depth, personality-driven interview programme continues nightly throughout May as Piers' inimitable style uncovers the most fascinating details about his newsmaker guests, unearthing hidden stories which surprise, challenge and delight an audience in more than 200 countries and territories worldwide.
cnn.com/piers
@pierstonight
facebook.com/PiersTonight
Thursday 2nd June at 1130 and 1830 BST; Saturday 4th June at 0730, 1600 and 2330 BST; Sunday 5th June at 0430, 0830 and 1930 BST
Duration: 30 minutes
Living Golf goes behind scenes at Congressional Country Club which has been a favourite of several formerUS Presidents and will host the US Open in June. The programme looks at the club's unique history and gets a preview of some of the changes been made to the course. Presenter Shane O'Donoghue spends the day with defending US Open champion Graeme McDowell discussing life-changing Majors, living in the US and home improvements. He also catches up withTaiwan's Yani Tseng as she prepares for the Women's US Open; at just 22 years old she is on the verge of a career grand-slam.
Thursday 9th June at 0845 BST; Friday 10th June at 0445 BST; Saturday 11th June at 0645, 1045 and 1845 BST; Sunday 12th June at 0745 and 1615 BST; Monday 16th June at 0345 BST
Duration: 15 minutes
In June, Future Cities sets it sights onTianjin, a booming city in north-easternChina.
Tianjin is already home to more than 11 million people, it is predicted that nearly one billion Chinese people will be living in cities like it by 2025 and 350 million more will reside in urban centres.With 20 new cities being built each year,China is said to be home to the true cities of the future – with the potential to shape and impact urban planners around the world. Those which are already built must expand to accommodate more residents, and those which are being built from scratch have the opportunity to set the standard and become models for future city planners. Future Cities visitsTianjin, where the local government is investing in vast new areas of development, including a brand new financial district, and a sizeable eco city. The programme examines the changes underway to help meet the demands of rapid urbanisation.
Thursday 9th June at 1130 and 1830 BST; Saturday 11th June at 0730, 1600 and 2330 BST; Sunday 12th June at 0430, 0830 and 1930 BST
Duration: 30 minutes
Open Court in June goes behind the scenes, reviewing the French Open at Roland Garros, featuring a compilation from the various protagonists attending the tournament – from player to journalist, to the official agent as well as corporate sponsor. The programme gets rare insight to a training session with one of the leading coaches in the game, Gil Reyes. Reyes spent 17 years as Andre Agassi's coach, driving him to eight Grand Slam singles titles and now works closely withSpain's Fernando Verdasco – a clay court specialist. Open Court also explores the pressures facing British players as Wimbledon draws close and meets with last year's finalist Tomas Berdych and his WTA girlfriend Lucie Safarova at theMadrid tournament. Presenter Pat Cash (pictured) speaks to fellow formerWimbledon champion Michael Stich about the challenges of making a quick transition from clay to grass.
cnn.com/opencourt
@cnnopencourt
facebook.com/cnnopencourt
In the News:
World Health Organization celebrates World No Tobacco Day on 31st May
Wedding of Pince Albert II and Charlene Wittstock take place in Monacoon 2nd June.
Celebration of the Queen's official birthday takes place on 6th June.
UK Royal Ascot commences on 14th June.